In the third part of our three part series, Thom Britton answers our theatre marketing questions including when to start marketing your show, which marketing channels are most effective, and the type of promotional videos that will get you booked. Thom has over 26 years of experience in theatre and produces the Danger Circus Company in Chicago. If you have questions for Thom, post them in the comments at the bottom of the transcript. Click here to watch the first video in the series and here for the second video.
What? No, I can't. I can't talk. I got to do it.
Oh, Hi. Oh, sorry. Let's begin.
Bienvenue. Now, I'm just desperate for things to start the show with. I'm now using puppets in French. That is the bottom of the barrel. My name is Thom Britton. I'm a theater performer here in Chicago and WellAttended.com/blog asked me to sort of answer some questions about marketing that people send in. I'm going to try to do a few and try to know some out. I've been doing longer form for the first couple of episodes. I think, maybe, some quick bits will be kind of nice, especially for the YouTube. You can swipe through, sweep through YouTube. The YouTube is the kids are using, you know. So these are questions that William takes on WellAttended.com/blog.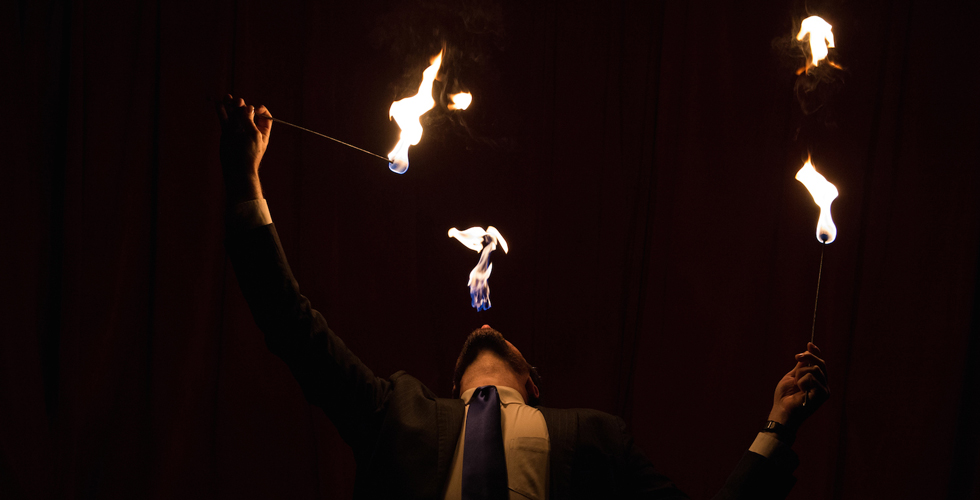 Do they pay you to split a ticket, you rent the venue, which way do you like best? So what we're talking here is four-walling, two-walling or booking. I've done all three. Lately I've been doing a lot of two-walling. So the difference; a booking is yeah, you give me X amount of dollars. I come perform at your theater. You sell tickets, hopefully, you make as much or more than you paid me, that's it. So you pay me $100, I'm not that cheap. You sell a hundred tickets to the dollar a piece – you're not that cheap. But now, you've broken even. So you don't make anything, right? So, hopefully, you sell a hundred tickets at $2 each. You make a hundred, I make a hundred. But you took the risk, you booked me. I just showed up, cashed my check.
Four-walling, I take the risk. So now you're my client. You're the theater owner in this example. So I come to you. I give you a hundred dollars, then I go sell my tickets for, hopefully, $500 and I make $400 in profit. So that's pretty simple to understand. Four-wall, two-wall. I'm sorry, four-wall booking. Two-wall is in the middle. So we split. Lately I've been doing a lot of two-walls but that's because they've been contacting me. A two-wall is where I come to a show, you've paid me nothing, I paid you nothing. We do the show, at the end of the night there's a pile of money – hopefully, a pile – we then split it. 50-50, 60-40, 70-30, whatever. We negotiate that. I've been doing a lot of 50-50 two-walls but that's because theaters had been contacting me for late night programming.
And there aren't a lot of people in that market, and to be honest, if you're contacting me, you've really shifted the power dynamic of negotiations. So it would be hard for you to contact me and say, "Hey, Thom, do you want to give me money to come perform in my theater?" When you're contacting me, you're either, I assume, to book me, which happens less often. But with the Dangerous Circus Company it happens a lot. With my production company it doesn't, or we're gonna two-wall something, 'cause I'm there to solve a problem you have. You have a the theater that's empty at 10 PM, 11 PM at night. No one wants it. You can't rent the place. You can't give it away. So you come to me and you hope to negotiate a good percentage and I come do shows and everyone's happy. You see it as free money.
Which way do I like best? I mean, booking is easier but there's something to be said for "Let me give you a hundred dollars and go make a thousand dollars." That's a nice thing to do. If I have confidence in a show, I'd love to rent your venue, turn you into my client, so now I'm your customer. So you're, "Yes, Mr. Britton, certainly Mr. Britton, Right away, sir, what can we do for you?" It's a different dynamic in the power shift. But I like arriving in a theater that's there to serve me and then I serve the audience. You know that's how the customer dynamic plays through. So it depends; depends on the mood I'm in and the show I'm producing.
How far out do you start marketing your show? When you pick the name. You pick a name that has a good domain that is Twitter available. If I'd pick a name someone else already has online, and that's the whole world. That was the problem in the 90's and the 80's. There wasn't a newer neighborhood. Who cares if they have the same name? No one's gonna hear it. But now we need that Twitter handle. So I would say, in the writing process, absolutely. If your name happens to be David Copperfield or Penn Jillette, you might want to change your name when you go into show business. You don't want to be Patti LuPone, no, no, the other Patti LuPone. That's a problem. So you might start marketing yourself right out of the gate.
More realistically on a timetable, I like to send a press release more than once because we aren't hard news. Journalists will sit on these stories. So they will get a press release but the next day our president bombs Turkmenistan, heaven forbid, poor Turkmenistan. So we get pushed. We're not gonna get any page space that day. Then the next week, you know, Turkmenistan retaliates on Poland, again, I'm not trying to start a war here, guys, let's all be friends. But I'm not getting space then. So if I sent that press release just before the Turkmenistan-Poland thing, aight that's it, that was my spot. Now my show's running and it's harder. So if I give it three weeks in advance, it's possible I'll do an interview right then, the next day. And then that reporter and their editor, and I'm not sure what their process is, can then hold on to that piece, until there is a slow news day, and drop it in, which is good for me for two reasons. One, I get in the paper, but also consider what I just said. It was a slow news day. So you might skip through the not so dense first few pages to get to the Art section because you don't feel exhaustive, "Oh, this war with Turkmenistan and Poland that Thom made up. Why would he do that?" You, instead, just skipped to the Arts and Leisure page and say, "Oh, look, a nice little show. I might come and see that."
So I would say give yourself at least three weeks. Work on a longer timetable if you can. But now when we say start marketing my show, it ramps up, so three weeks out of press release, maybe a little hint on Facebook, maybe, for people who really follow what I do and want to come see it, maybe then, early bird tickets go on sale two weeks in advance. I don't care how early I sell tickets; I sell the bulk of my tickets a week before a show. I just don't have an audience that buys tickets eight months– even if they sell out, my audience doesn't adjust. They don't start buying tickets eight months in advance. They just let the show sell out and they miss it.
So I'm not gonna fight that. It's fine, that's my demographic or whatever. So about 10 days out is when I really get serious and that's when I'm trying to do those seven touches, which is something we may cover later in this series. The idea I need to ask you to buy tickets seven times and I can't just say "buy tickets." That's annoying. I have to find seven ways to let you know, five is another one I've heard, but whatever, pick a number between these two hands. I need to find some way to let you know that tickets are on sale and I can do that with a blog post. I can do that with being on podcasts, recording things like this is helpful, Twitter, etcetera. But I need to find seven ways to ask you subtly, politely, if you want to come see the show. I don't want to bother you if you don't want to come see it. It may not be a judgment on me, you may not like Romeo and Juliet; you just don't like Shakespeare. No problem.
I want to find a clever way, an entertaining way to ask you seven times, "Are you sure you don't like Romeo and Juliet?" Okay, fine, no big deal. I'll catch you next time. That's something that you should keep in mind in your marketing. So if you're not very good at it yet, give yourself longer, 'cause you need to develop your bag of tricks, to get your seven touches; maybe go for five the first time. And, so, you may want to go on a month, a month out, maybe a month and a half out.
How many different marketing channels do you use and which have given you results? So I kind of covered that then. I find marketing channels? No. Hand them postcards. Print postcards. Print flyers. The cheap ones work almost as well as the nice, full-color card stock, the ones I have printed. Pass them out at bus stations. Pass them out at coffee shops. Hand them to people. You can do a mailing list. You can do, but don't get too connected to social media. It's an easy sell. It's easy for fake gurus like me to sell you that horse crap. But there's power in wearing out your sneakers. There's power in saying "Please come see my show. Here's a flyer, would you please come see my show?" That's important. That's a human connection. It's harder work, yes. You might have to work hard to have success. Hopefully, that's not a revelation. But different marketing channels do try them all. Don't take what I've just said, "Well, I don't do Facebook." No, no, you do Facebook. You do twitter. You do Instagram. You let the customer choose their access point to you.
Some people want to find out what I'm doing through Instagram, they don't like Facebook. Some people want to follow me on Twitter. I do that. I follow, say, The White Stripes on Twitter, I don't follow them on Facebook because I want the spam, which we call bacon, spam you want. I want to know when The White Stripes are coming to town. Absolutely, I want their five to seven touches, right? I want them to be telling me that "We're coming to Chicago. Get ready for Chicago. Tickets are for sale for Chicago. Thickets are almost sold out in Chicago." By the way, it's a bad marketing scheme I just described. Be a little more clever. But I do want those touches from The White Stripes. I don't want them on Facebook. So they have both, I have both and I have Instagram, etcetera. So you should as well. Use all of your marketing channels.
The most effective way to fill seats? Okay, I honestly believe it's reputation. It is the grind. Keep doing shows. Don't stop doing shows. Do good work. That attracts people. Then go out in the real world. Dress up. Why? This is YouTube. Why do I have a tie on? Because it matters to me. I want to try hard, right? I would– something like this, depends on the show, the costume, the cut, the makeup, the whole– Do it. Do it. Work hard. Print flyers. Write them yourself. Punk rock bands have success. Success — 45 people in a punk rock bar. But they wrote them on crayon on a piece of paper. That can be very cute. "Handwritten flyer, ma'am? Handwritten flyer, sir? Please see our hand-made show." You can find a way to pitch this. The most effective way to fill seats is that one-to-one touch. It's very powerful for me. I tend to do it near the venue and then near where my demo would be. So if I think it's a college kind of show, I go pitch it to colleges. If it's not, you know, sort of random.
When you bring your show to a new city, how long does it take for it to sell out? Sell out and sell well to me are the same thing. If I have a show that is selling well, turning a profit, I'm doing okay; it's as good as sold out. And if ever I have a full house – full house, not sold out – a good house, I can't tell the difference. When I'm standing on stage and the show is 75% sold, that feels the same to me as a 100% or a 110% sold. So it doesn't affect my performance or my energy and it doesn't really affect my pocket book. An extra few hundred dollars is not really gonna make a difference to my lifestyle. So sold out and sold well to me are the same thing. It takes about two runs on average; runs though. So on the first run, I might lose money over that six weeks. It's an investment. So when I can come back to that city for the second run, I tended barely turn a profit. So I need to have something else going on. I need to have come off a couple of college shows where they're booking me or I've already– I call it breaking a city. I've already broke a city. So I've already made this investment in, say, Cleveland.
So I go to Cleveland, I do my shows; I make money, except I already paid Cleveland a while ago. Then I go to Cincinnati, where I'm breaking a new city. I do six weeks and I don't make any money. I go back next year, I do Cleveland and I do a couple of colleges, then I do Cincinnati, again, and now I almost break-even. The third time, I can have more confidence to do, maybe, one college, Cincinnati, make money, now what am I breaking next? It's always that next investment. So you always need to have to have six to eight weeks of renting theaters, 6 to $8,000 for the average, well, maybe, Cincinnati and Cleveland, maybe a little cheaper. In Chicago, it's $6,000 to $8,000 plus your hotel, plus your travel, plus your loss of time, plus your earning your own money. Do you like to eat? Add that in. This can be kind of difficult.
Last one, what kind of promotional videos will get you booked? Should it be your entire show, clips, or both? Both. People are very, very afraid to put a bulk of their act online and I understand. I've had stuff completely ripped off from me. It's completely stolen from, absolutely. It's a concern. I've put a 20-minute video on YouTube, you can find it on this channel, 20-minute video, me doing my fire eating piece, which is a 30-minute piece. I do long form pieces. I'm a theater performer. I'm a monologist. I'm not a trick performer. I'm there to tell you a story, during which I do some tricks. So it's long-winded. It's a story show. I'm Spalding Gray wannabe anyway. I put that online it's got 26,000 views. That's not a lot compared to gangnam style. Man, I'm like old; I don't even know the name of that video anymore. That one, you know, the guy dancing on like a horsey. That one. But that's a lot of views for my channel and so my point is it didn't slow me down and I got shorter videos that didn't have the votes, didn't have the likes, didn't have the views. So clearly it's me, not the length that's doing it, right?
So don't be afraid. Maybe 20 minutes is extreme. But if I'm booking you and I don't do this, so I don't really know the answer from that end. But if I'm booking you though, I don't want to see your clippity, clippity, clippity clips. Any one can look good for 3 minutes in clippity, clippity, clippity. No, you need to show me your act. And if you don't show me all of it, show me enough of it. I need to see your presence on stage, finding your light, moving around, dealing with people; especially in the variety arts. When you bring on audience members, they'd pick a card. I need to see you. I need to see you performing. So short clips in the beginning, moving to longer form is the traditional style of promo video. But never stop working on that. Never stop working on your promo video. Never stop working on your website. Never stop refining that stuff. That is a life-long endeavor you can always be working towards. Now, you can do more than one clip because it is possible. I've had this happen, particularly colleges, where they go through the clips. So they watch the short form video and then they watch the longer, then the longer, then they watch 10 minutes of that 20-minute piece. And then they either know they don't want it, which is just as effective. Don't book me if you aren't gonna enjoy the show or a better result for everyone is they go, "Yes, this is exactly what I was hoping it would be. I would like to have this gentleman perform at my theater." Or my campus or whatever.
So I would say you need a mixture of both. But that's me. If you can't, if you really can't put longer form out there 'cause you're just so scared, you can use an unlisted option on YouTube and we've done that. We have a bootleg. We made it with a GoPro. We called a bootleg of our full show. We don't want that online. But we do occasionally send it to booking agents because they want to see "the show." And here it is, on a GoPro. You know, you don't have the best angle but you can tell what's going on. More importantly, you can hear the audience reacting to us and get an idea of what the show should be. Before you, in this case, if I would send you that link, it's because you're spending a lot of money to fly us out, to fly our freight out and have us at your theater for six to eight weeks. So you're gonna spend $15,000 to $18,000 just for that part, not including lodging, promotions, etcetera. You're hoping to make real money. So you are spending some cash on us. So I want you to know exactly what you're getting. That way if it doesn't work out, you don't feel taken advantaged of. If you feel like, "Well, that was unfortunate." It didn't work out, not, "It looked like a whole different show on that clippity, clippity, clip video. This was very long form and theatrical." I don't want that. I want you to know what you're getting.
Okay, that's enough questions for now. Let me cut it off here. We'll continue. I like these short forms. I think I'm gonna do both. I'm gonna make short form and long form. So on behalf of WellAttended.com/ blog and The Dangerous Circus Company, my name is Thom Britton, see you next time. Bye.
Have a question for Thom about theatre marketing? Ask in the comments below.