In the second part of our three part series, Thom Britton shares 5 ways to find venues for performances. Thom has over 26 years of experience in theatre and produces the Danger Circus Company in Chicago. If you have questions for Thom, post them in the comments at the bottom of the transcript. Click here to watch the first video of the series.
How do you find venues where you can perform your shows?
For actors, performers, and writers outside of traditional theatre this is a very difficult question to answer because we don't just audition for parts. Instead, we create shows which put us outside the roll of a Shakespearean actor who can audition for hamlet, get the part, and entertain an audience.
I believe that finding a venue and marketing your show should fit your personality since every show is different. I will give you my thoughts on five ways I find venues. You can mix and match them to discover what works for you because doing something is better than doing nothing.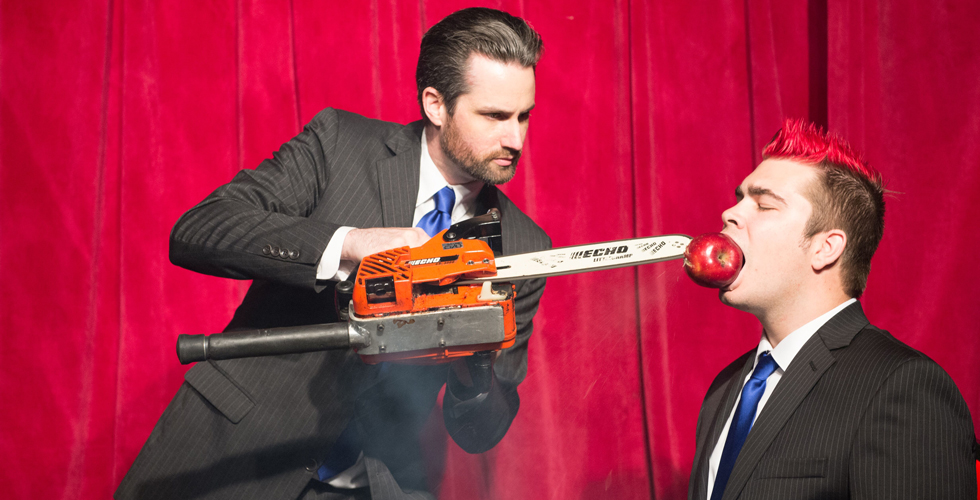 1. Always be Looking and Always be Asking
I stole this from Glengarry Glen Ross. First, figure out the type of venue that will fit your show. Most shows belong in a theatre, but not all. Once you know the type of venue you want, always be on the lookout for a venue that wants to work with you. You should contact the theatres in your hometown, because no matter where you live, there is a theatre somewhere. Even if that means you have to drive thirty minutes because you live, like where I grew up, in a very podunk town. I'm in Chicago and there are tons of theatres and opportunities. You can also drive around town and find a neighborhood where you think your show might work, park your car, and walk around. This is how you really find venues.
Always be asking means exactly that. When you go to a show, ask the performers or audience members where else they go to perform or see shows. Networking is very important, you can't just sit and wait for a venue to fall from the sky. You have to constantly talk with people and be active in finding a venue. Go out there and find it.
2. Go Outside the Black Box
Go outside the black box means that if you are already performing in a theatre, look outside the theatre for other venues. Find places that may not be a stereotypical venue. This is important if you have a burlesque act, are a comedian, a magician, a juggler, or a clown. About a week ago, I performed my show at the International Museum of Surgical Science here in Chicago. It's an amazing museum. www.imss.org. In two weeks, I'm performing at a vegan restaurant called The Amazing Kale Burger! www.amazingkaleburger.com I will perform a dinner theatre show, but it's actually quite different than most dinner theatres. I also have a reputation for performing in venues that are not always legal… I'm a bit punk rock so abandoned buildings, illegal punk rock bars, and speakeasies are prime locations. I've also entertained in the back rooms of churches (do this only if you are insane), bars, restaurants, in people's living rooms, attics, basements, and back yards. Some of these venues may not have a lot of space, but they are inexpensive. I like to do shows that are not going to be popular and aren't going to make a lot of money, so I can't rent a theatre for hundreds or thousands of dollars a night because my show isn't that interesting to that many people. I'm not producing two and a half men the musical, I'm doing some weird niche project. Keep an eye out for a venue and you will be surprised at what you can make work.
3. Join Other Troupes, Work with Actors
This is mainly for variety performers. Join other troupes and work with actors. Too often we get in our own little world and don't know where theatres are because we don't work in them or attend shows. This doesn't mean you have to audition for parts and be in shows because theatres are always always looking for tech help and volunteers. You can also attend a show as an audience member.
One of my first forays into traditional theatre was through an improv troupe. I went to an improv show and really enjoyed it. It was short form improv in a Whose Line is it Anyway style. I was immediately hooked, so I went again, and again, and again. There were 7 to 9 people in the troupe and almost all of them were actors, directors, or writers of traditional theatre. Attending these shows gave me the opportunity to connect with those folks. I was able to ask about theatre locations, where to get insurance, and learn other valuable information. They had years of experience that I didn't coming from a background in fire eating, juggling, and circus, and those sorts of performing arts.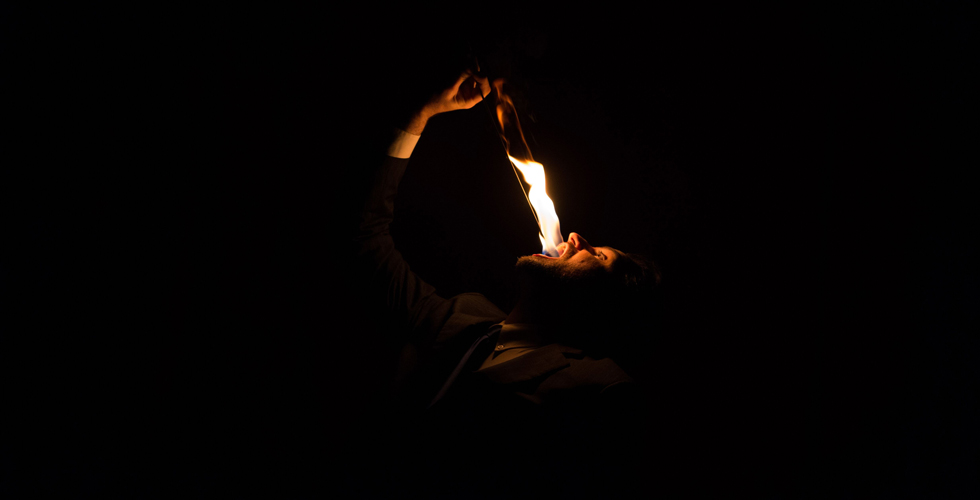 4. Partner Up!
I've always wondered why someone doesn't come up to me after a show and say, "Hey, I want to partner with you with my show. Can we do a double header?" In circus, this is called a combined show and has many advantages: your partner already has the theatre, the marketing, and audience. You can do a separate show, but in the same venue on the same night. If you want to entertain in a new venue, the more experienced partner can take the lead and talk with the owner of the theater. This way you can learn how to book a venue and split the rental cost.
You can set up your partnership two ways: have completely separate shows or be the opener for the more experienced performer. If it's two separate shows, the audience would attend your show and then leave. A second audience would then come to the next show. You aren't really working together, but partnering for the night. I call this the combination pizza hut/taco bell of theatre. I've never had anyone approach me with this, but I would be very open to the idea as long as they were separate shows. If they are kinda mushed together, then I care how good your show is. But if they are separate shows then it doesn't matter to me if you have a great show or a bad show. You're a business partner and that's enough. You'll learn and get better. Thats fine. If you have a great show, you can be an opening act. Since your partner will already have an audience, you don't have to worry about performing for an empty house. Over time, you'll gain a following and part of the audience will be there to see you.
5. Gain and Maintain a Reputation
This is a lifelong endeavor. If you can gain and maintain a reputation people will come to you with venues. That vegan restaurant owner that I performed for a couple of weeks ago came to me and asked if I could perform my dinner show there. I don't normally perform in restaurants because it's not really my thing, but I thought it would be fun and it was for a friend who worked at the restaurant. That's my point, gain and maintain a reputation and people will come to you.
I now know the owner of the vegan restaurant and we are friends. But we weren't at first, we had a friend in common who worked there and the owner said to this friend, "I know you work in theatre. I'm thinking about doing a murder mystery or some kind of show for brunch." My friend replied, "Oh, you should talk to my friend Thom. He has a show like that."
I've also had two theatres just in the last month approach me about doing late night programing. Sadly, neither of them worked out, but they came to me because they wanted to do a punky underground type of show. They can't get their Shakespeare and Annie fans to stay for a midnight show. But, they know my crowd will, especially if it's a little cheaper than the average ticket price. So, that's the importance of having a reputation. These larger theatres in Chicago came to me, we had a meeting, and nothing happened, but we still had a meeting. I don't know how many other people have that happen to them.
These 5 points are really just advanced networking strategies that anyone can do. Feel free to mix and match any of these ideas. Now you know the attitude for finding venues where you can perform your show, without signing big checks and hoping everything works out.