Free when you pass the fees to ticket buyers
Here is a breakdown of our total fees including the WellAttended and credit card processing fees. We don't require contracts and free events are free!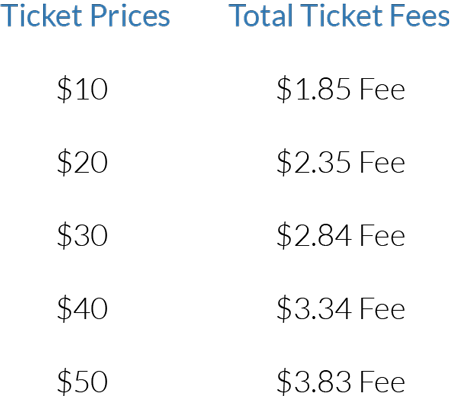 Get Paid Instantly
We use Stripe as our credit card processor to collect payments. This makes it easy for you to manage your sales and refunds.
Your money will be deposited directly into your bank account within approximately two days of each sale.
If you are unable to use Stripe, we can always send you a check!
How does the WellAttended fee and payment processing fee work?
The fees get automatically added to your ticket price at checkout. Don't worry, we do the math for you!
Can I pay the fee instead of my ticket buyers?
You sure can. It's simple to add the fee to your ticket price. You can change this setting with a couple of clicks.
What costs are associated with Stripe?
Stripe is free to use. There are no monthly contracts or fees. Just create an account and start receiving payments.
Do refunds include processing fees?
Yes! When you issue a refund, the ticket price and processing fees get returned to the ticket buyer.
Can I host a free event?
Yep, and it's completely free. Simply create a WellAttended account and set your ticket price to $0.
Are fees associated with optional charges?
Yes, the WellAttended and Stripe fees apply per line item for optional charges.
I have more questions. How can I contact you?
Send us an email to hello@wellattended.com. We are always happy to chat.
WellAttended is incredibly easy to use with all the functionality I need. I recommend WellAttended to anyone looking to sell tickets to their theatrical event.

Evan Greenberg

AfterWork Theater
I love working with WellAttended. It's super easy to use and is built from an event producer's perspective. It has all the tools I need and nothing that I don't.

Freya West

Delinquent Debutantes
I love that I get paid as my tickets are sold. I've used other services in the past and on all of them I had to wait, sometimes months until I got the payment.

Bill Gladwell

One Thought Minimum
WellAttended is very user friendly, they have phenomenal customer service, and they have innovative and useful marketing programs that have been of great value.

Mike Broemmel

Theatrix USA
Sign up for a free account and start selling tickets
Sign Up Free