In the next three posts, Thom Britton will share his 26 years of experience with theatre marketing. He currently produces the Danger Circus Company which is based in Chicago and performs nationwide. In this first part of the series, Thom discusses his love for theatre and why it's so important to put butts in seats. Watch the video or read the transcript below. Click here to go to part 2.
Lights, camera, coffee, action.
Good day, humans. Hi, I'm Thom Britton. I'm a theatre performer here in Chicago and I do a little thing for marketing for WellAttended.com/blog. William, who runs WellAttended, sent me a question. I'm looking at it, so I'm pointing right there. "Hello Thom." "Hello William."
Can you tell us about yourself and how you got involved in producing live theatre?
Now I think this question is for people who already read his blogs or if you're watching this on YouTube, I'll keep it short and I'll include pictures of fire-eating and chain saw juggling, so it's worth watching because giving your C.V. or your resume can be very– Sorry, the coffee wasn't just a prop, actually, need the water. It is water, though; I guess I have blown outs behind the scenes. It was water the whole time.
Giving your C.V. or resume can be kind of boring. So I'll throw in some fun clips, right about here. I started off as a juggler at a very young age. By the time I was 16, I was performing, you know, bar mitzvahs, birthday parties, etcetera. I quickly learned that I really preferred performing in a theater environment. I don't know why, I still just to this day, like, I don't do private parties. I don't do corporate events. The only exception to that rule is I would do your corporate event if you bring it to my theater. So I rented out the entire theater for like, Virtucon Incorporated and done a show for them. But that's it. There's no way I want to do it. I don't want to leave theaters and every time I do, it's a bad idea.
I moved from juggling into juggling fire, torches, chain saws, etcetera. Then about the time I got into that, I started eating fire. And I did fire eating, sword swallowing, glass walking, all the side show stuff. I did side show stuff and this is now we're going from the early 90's to the early 2000's working in side show. In the 2000's, I bring my side show from the street performance and large venue, outdoor festival kind of show, into a theater. That's why I find that love that I have today. So the theater thing kind of grew from that.
Once I've got it in the theater, I'm, then, constantly putting it in the theater. From 2001-2002 to 2009 I did the flying cat circus. My partner Kevin Lepine and a few people that we cast with a third member of the troop, and then I did Freak Show and Tell – my one man show. That was probably my biggest hit. That was my show from 2009 to 2015-2014 that I did the most, and had the most success with. After Freak Show and Tell, the current show that I've got running, which is Danger Circus Company, which is a three-man troop – that's a juggler, a magician and myself doing side show. And the Dangerous Circus Company is also been a bit of a hit but it's new. We'll see if it's a fad. We'll see how long it stays a hit. But this year that we've launched, it's been very, very successful.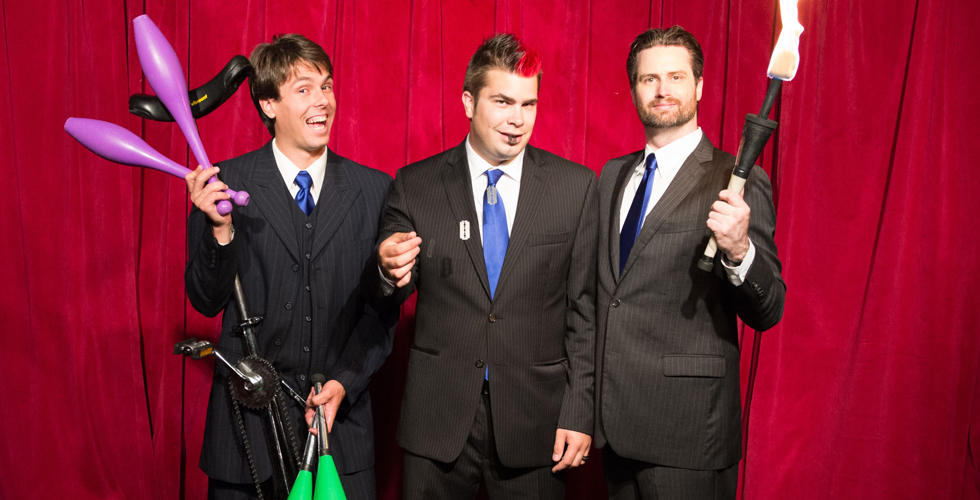 So my history is performance, producing, writing and directing mostly vaudeville variety. I have done murder mysteries. I have done plays. I have done comedy shows. I've directed magic shows. I am not a magician but I can direct them; directed mind reading shows. I got a show with a mind reader called "The Séance" which is a historical and skeptical look at the séance that we perform, very small time, very small venues here in Chicago. I opened a theater last year with my partner Tony Valle. I since moved on, removed myself. He wants to go a different direction and took it much more seriously, so I let him have the reins. It's called the WIP Theater. It's at Edison Park, Chicago. So it's still an ongoing project for him. It's really fun to get to open a theater with someone from scratch. We built a space into a theatrical venue.
Now, I'm sort of starting to bring these marketing ideas after 26 years to you, hopefully, because it helps. Most of what I'll be doing in this series is a synthesis and very few of these ideas are original to me. They're usually just things I've read out there and I could compile them for you and these are the best things I've had work. But at the end of the day, I'm most known for my ability to put butts in seats. I move paper. When I have a show, it sells. Maybe not sells out but it sells well. I make money in theater; something you're told you're never supposed to do. I've never had a show lose money.
I've never had a show lose money. I take a lot of pride in that. I also want that to be said because there are lawyers and accountants and bankers out there who might want to produce theater, but they believe this bull crap that theater always loses money. So there's one exception to that rule, you're looking at him. Now I don't make $10 million. I don't do Book of Mormon. When I say I've never had a show lose money, that means it made a dollar. I never had a show make that little but I've had a show that made 75 bucks. I spent $8,000 renting the theater, the props, the costumes, the set, the script and I made $8,075. I didn't make any real money, but I didn't lose money. That's a point of pride for me.
That's the basics on me and I think a little bit of my glimpse into how I do treat the business side of show business. I am an artist. I don't go outside my theaters, I just won't. I don't care how much money it pays, it's uninteresting to me. I have my moral position for an artist. But, also, when I do have a show, I beat the street, I work, I hustle, I put butts in those seats. There's no point in me expressing myself through my art form if no one is there to receive it. Why are we doing this?
Until next time, I'm Thom Britton on behalf of WellAttended and my troop, The Danger Circus Company. See you next time.
[x_subscribe form="2406″] [x_line]
Have a question for Thom? Ask in the comments below.
[x_author title="About the Author" author_id="1″]