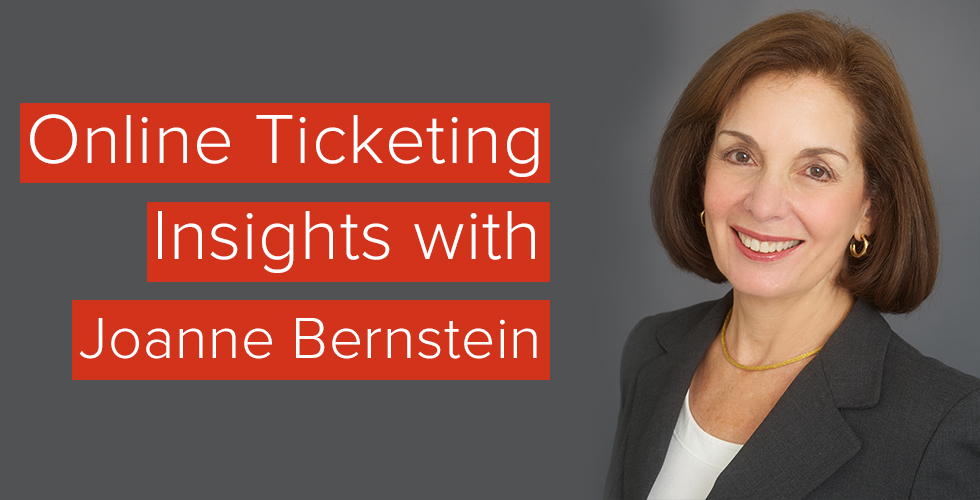 We are excited to share our recent interview with Joanne Bernstein. Joanne is an educator, author, consultant, speaker and manager for non-profit organizations, primarily in the field of arts and culture management and marketing. Joanne is the author of Standing Room Only: Insights for Engaging Performing Arts Audiences which is a comprehensive sourcebook with up-to-date marketing strategies and techniques for theater, music, dance, and opera organizations.
In this interview, Joanne discusses the benefits of investing in an online ticketing solution and gives her thoughts on discount ticketing providers such as Groupon and Goldstar. 
What advice do you have for event producers who are not yet selling tickets online? They might be taking reservations by email or phone, but haven't switched to online ticketing.
People want the convenience of purchasing online. They want to select their own seats. They want to choose the price category that best suits them. They want to do this all in one transaction, because with an email, they might be getting emails back and forth about seat location or price, and that becomes more of a hassle. Also, it is not secure to share credit card information in an email. Basically, people expect to buy tickets online, as they are accustomed to do for many other purchases they make. The lack of online ticket purchase can prevent people from buying tickets to a show they would otherwise like to attend.
If there isn't the convenience of buying online, we believe that people put off making a reservation by phone or email. Do you agree?
Absolutely. There is the convenience of being able to buy online 24/7. Studies I have read show that most people purchase tickets online in the evenings when the box office is closed.
Are tickets that are printed at home or on a mobile phone a better solution than having paper tickets at will call?
Yes, of course, it's a better solution to be able to print it out at home and not have to wait in line at the box office. Often the will call ticket holder will be advised to be there 20 or 30 minutes early because there's always waiting time at the box office.
If all the tickets are will call, with 50 seat hall, you will only have about 25 people redeeming pairs of tickets. But if it is a 200 seat hall and you have 100 people in line waiting for their tickets, then how many people are you going to have servicing those tickets? Will call can be awkward and inconvenient and very time consuming.
Online ticketing solutions are an investment. Can you discuss how investing in a ticketing solution will help in the long run?
Does your system allow the organization to have access to all of the information about the ticket buyers?
Yes, our clients get the first name, last name, email, phone number and any survey questions they have asked their patrons. All of that information can be viewed in our dashboard and can be exported as a .csv file which can be imported into any CRM management tool.
May I assume they could also keep track of what shows people come to? So if they find that there's a critical mass of people who have come to two musicals, they may want to target those people to reach out to the next time they do a musical, saying, "We see you came to shows X and Y, and we think you will really love this upcoming show." Are you going to have that kind of information in the database that you provide to them?
We have that information in our database. Our clients can quickly view who has attended which shows and which ones are the most popular.
That's a critical feature. And you use a keyword, investing in a system. There is a huge difference between a cost and an investment. A cost is usually part of doing business that does not necessarily return value in the future. You make an investment when you adopt a system that will provide you with benefits above and beyond what you have without it. That's all part of the value the organization is getting. Do a cost-benefit analysis and as long as the benefit exceeds the cost, you're way ahead.
How would an organization run a cost-benefit analysis for a ticketing solution?
Well, like any other marketing strategy, you have to allow a certain amount of time for evaluating it. It is not possible to obtain meaningful results after the first show; maybe after the first season. A difficulty in evaluating is that you can't do a double blind study where half the people use the ticketing system and half do not to compare results.
The system should be simple to use so the patrons do not have a training period in using it, and the staff should be trained so they can be sure to leverage all the benefits.
We believe that one of the major benefits is that a ticketing solution saves time. Organizations that are spending time answering emails or the phone could be focusing on marketing or community relations.
Absolutely. The value of human resources is often not taken into consideration when managers evaluate the actual cost of a new system. Even when theaters have volunteers who implement ticketing, typically paid staff has to coordinate and train the volunteers.
What do you think of using services such as Groupon or Goldstar to sell tickets to productions?
This is a complex issue. I can argue with on both sides, and I will. Selling tickets through discounters like Goldstar, which has a big base of subscribers, can bring more people into the halls to fill empty seats. These discounters have their own subscribers who buy tickets, not just for arts events, but for sporting events, circuses, and more. Many of those people who do not often attend arts events might be enticed to attend by a specific program or star and by the discount. In most cases, people are seeking low-priced tickets for a single event when they buy from Goldstar and they're not likely to ever purchase at full price, much less to donate to an organization, and that's a key factor. And when people pay a low price, they believe that this is all the ticket is worth and if an organization frequently discounts tickets through discounters or through their own box office, people typically will not pay above the discounted price. This is definitely not a strategy for building loyal audiences for the future.
It is common for theaters to sell very low priced tickets to students. Some theaters sell low-priced tickets to people who are no longer students but are under a certain age such as 35. Instead of paying the standard price of $75, which is not uncommon in Manhattan and Chicago and other big cities, people aged 22 to 35 can buy tickets for $20 or $25 to see major shows. What happens once they turn 35? They stop coming. These people have been buying the tickets for $20 for so many years that now, just because they're 35 years old, they have to pay $75 or $100, and it's not worth it to them. Even if they can afford it financially, it's not worth the price to them because their price has always been so low.
I think the same thing happens with the discounters. If people expect to receive a discount offer, they will not pay full price even if the full price is very affordable and reasonable for what it is. People don't want to feel "taken." Besides, why would they pay the stated full price if they know that the tickets will come up for half price at Goldstar or Groupon. So, in many cases, selling discounted tickets through a third party provider works against the best interest of the organization.
However, on the other side, there are benefits to selling the hall even at low prices. A full house creates a better, richer experience for both the performers and the audience. And there are cases when discount ticket holders will spread positive word of mouth about a show and possibly encourage others to attend. So I wouldn't eliminate the use of discounters, but I would be more selective about it so people feel like they're getting a very special opportunity, not something to expect regularly.
Do you suggest having the discount tickets in the back of the house or in the balcony?
The discounted seats are definitely not the best seats in the house. When you offer discounted tickets, they should have less value to the patrons.
First and foremost, our patrons have to trust doing business with us. We need to price our tickets in a trustworthy manner.
Also, I do not like when managers focus so much on price, rather than communicating to them the nature of the experience. A strong focus on price takes away from the real value of the art.
Thanks Joanne for sharing your advice on online ticketing. You can learn more about Joanne Bernstein on her website and read more of her wisdom on her blog.
Click here to read Joanne's thoughts on how to increase your theatre's revenue. If you have questions for Joanne, please post them in the comments below.