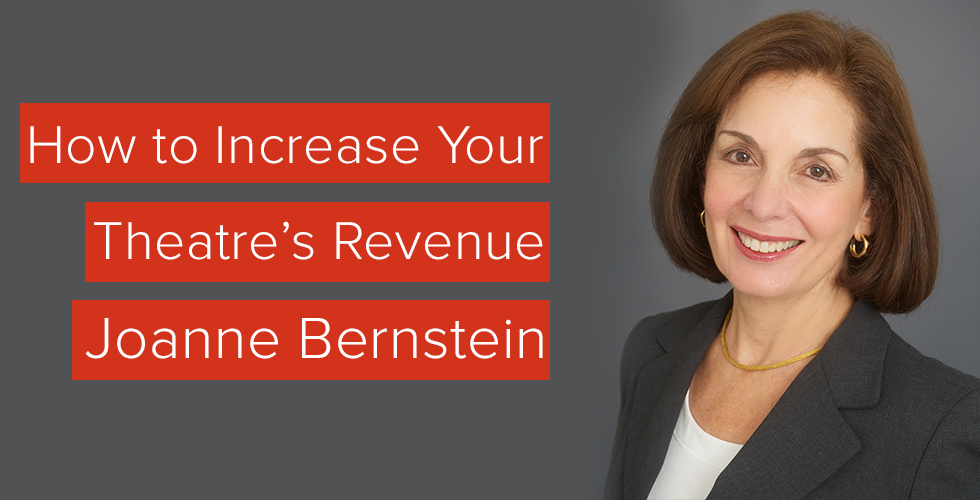 We are excited to share our recent interview with Joanne Bernstein. Joanne is an educator, author, consultant, speaker and manager for non-profit organizations, primarily in the field of arts and culture management and marketing. Joanne is the author of Standing Room Only: Insights for Engaging Performing Arts Audiences which is a comprehensive sourcebook with up-to-date marketing strategies and techniques for theater, music, dance, and opera organizations.
In this interview, Joanne discusses how to increase theatre revenue through raising ticket prices, up-selling, and taking donations.
Hello Joanne! Creating the right ticket prices for productions can be make or break a lot of theatres. Can you discuss the importance of setting ticket prices that reflect the quality of the production?
What people care about more than price is value. If you price a ticket too cheaply, then people wonder about the nature of the experience they will have. Price is a strong indicator of what people should expect from a product or service. I consulted some years ago with a symphony orchestra in a small city in central Illinois. They had 60 to 70 musicians on the stage for the concert, they were charging only $15 a ticket, and were afraid to raise their prices. So I asked, "What are people supposed to think about the value of having 70 musicians on stage for a live symphony concert and you're charging the same price as a movie ticket?" I encouraged them to increase their prices, but to do so over time. You can't make big jumps all at once, because then you'll get some push backs.
One way to raise prices is by adding value to the experience. I worked with a small opera company which performed in a local community house that had about 150 seats. The opera charged general admission of $20-$25 each, but if people were willing to pay an extra $50 per person for the entire season, then they would receive more comfortable seats reserved for them in the first two or three rows. This meant that they wouldn't have to arrive a half hour early when the doors open to guarantee good seats. They knew that they had great seats in a reserved section, which added important value for them.
What are ways to add value to a ticket price? For example, a theatre's ticket may be $10 and they need to raise it to $25. How can that theatre demonstrate that they have value and that their productions are worth the price?
You are talking about a 250 percent jump in price and doing this would require a very special added benefit.
But basically, the real value is in the experience itself. I think that marketers need to do a much better job of bringing alive the experience people have with their live event. And as I said before, what really matters to people is value, not price, and patrons won't realize the value to expect if they don't know about it. We need to do a better job of communicating this true value of the art, the experience, the uniqueness, the live event. We need to stop talking in jargon that means nothing to most patrons and stop focusing the conversation on price.
What's the best way for theaters to raise their ticket prices?
You say that the theater may need to raise prices. The right price is what people are willing to pay, not what the theater needs. Once you decide to reformulate your pricing strategy, keep in mind the basic principle in ticket pricing of higher highs and lower lows. Raise the prices in the best seats for people who are not price sensitive and want the best possible seats and don't raise them or raise them less in the seats that are further back or might have an obstructed vision. If you go from $10 to $12 for your top ticket, or $20 to $25, most people are not even going to notice. And if they do notice it, it will not keep them from attending. Offer discounted tickets for students and possibly for seniors. But these discounted seats should be in the back of the hall or for the less popular performances, not for Saturday nights or whatever is the most popular in your area.
To clarify, you are saying to not offer senior tickets every single night. Offer it, maybe, on a Monday night. Is that correct?
Yes, because typically, seniors have significant discretionary time and income and are frequent attenders. Of course, there are seniors who are on a fixed budget who really want to come to a show. For those people, offer lower priced tickets, but they need to be in the less desirable seats. If there are not seating sections, the discounted seats should be for the performances that sell the least, so you're not giving away your best tickets for the best performances at lower prices for students and seniors. In general admission halls, try adding pricing sections or a reserved section for people who pay a higher price per show or per season. This way they can get better seats and don't need to come a half an hour early. They'll linger over a cup of coffee in the restaurant, arrive at the theater just before curtain time, so they're getting extra value that way. In other words, organizations can offer lower priced seats to some people by raising prices appropriately to others.
In halls that are scaled with different price sections, there's often an opportunity to rescale the hall. So let's say, for example, you have three sections with prices A, B and C; "A" being the most expensive. You'll increase the number of seats in the sections that sell the best and typically it's the best seats that sell first. Many managers say, "If I increase my prices, people won't pay and I have to keep low prices." Yet, in all of my research, the seats that sell the best are the most expensive seats; the ones that sell second best are the cheapest seats, which are bought by students and people who really want to be there but really can't afford the higher prices. The middle-priced seats are the hardest to sell. I suggest you look at the Chicago Opera Theater example I wrote about it in my book.
Another option to consider is to increase or decrease the number of seats in pricing sections according to demand as the tickets are selling. For example, let's say you're running out of A priced seats. Instead of offering people B priced seats, add another row or two from the B section to the more sought-after A section. So, in other words, when you're selling the tickets, don't sell the first couple of B rows as a B priced section. Wait and see if you're selling out the A seats, then you can add rows from the B section to the A section.
So, you're saying hold a block of seats in-between the "A" and "B" section and if "A" is selling really well, add another "A" section at that price point?
Right. But on the other hand, if the "B's" are really selling well and the "A's" aren't, then you can increase the size of the "B" section.
People who want the best seats might not be willing to pay the second best price, even if it's the same row and they don't realize it. And for people who want the "B" price and wouldn't pay the "A" price, just allow for more of those "B" priced seats. I've seen some organizations do this and that works really well.
Organizations may be limited in this strategy, however, by the layout of the hall and where natural seating breaks occur.
Should theatres test their pricing for one season and then set the prices or should they constantly manipulate the prices year after year?
What we are talking about here is for the single tickets after all of the subscription seats have been sold. What some theaters will do is put their subscribers in at the beginning of a run. So, let's say you have a 5-week run of your show. Put the subscribers in the first two, three, four weeks, however many subscribers you have, leaving some seats for single ticket buyers. You're using your subscribers to spread word of mouth and then as the single tickets are selling, you use this tactic.
Of course, the organization should conduct a capacity utilization analysis each season as to which tickets subscribers are buying and, as a result of this analysis, the ticket prices for the season can and should be adjusted also. This can have a meaningful effect on total revenue earned.
Ticket buyers who pay higher prices can sometimes receive benefits, which are determined by the organization's options and the community's interests. A benefit could be reduced price or free parking if the theater has any control over the parking situation; it could be special lectures or discussions about the current show. The organization needs to design the benefits that work for its patrons. You can't just say, "Oh, well this is what "Theater A" in another city did, so let's try it." Because it may not apply to this theater or the audience at all. And you always have to do cost-benefit analysis of these things, what it is really going to cost to offer these benefits and how much benefit are will the patrons actually receive? How much value will the organization get from people using these benefits?
Can you talk about ways theatres can up sell tickets? Many theatres sell alcohol which sometimes doubles or triples their revenue. What are some other strategies non-profit theaters can use to increase their revenue?
Non-profits are very reliant on donations, most of which come from individuals. A much smaller percentage comes from foundations, corporations, and government agencies. So I think it's critical that organizations reach out to their patrons, not just for increased ticket prices, but to attract donations. I think that's a very important "up sell." Sometimes organizations include a line on the ticket order form for getting a donation, aside from annual fund appeals and so on.
We agree. We have an option that allows our clients to ask for donations before tickets are purchased. For example, one of our dance troupe clients received an extra $200 for their fundraiser!
There are also many other options available to theaters for extra charges. For example, a dance company has an event after performances of "Nutcracker" where the kids can have their photo taken with the sugar plum fairy or with the Mouse King, if they prefer. At performances of "Christmas Carol," there are similar photo opportunities. These are ways to upsell the experience, to get the families involved, and to have a keepsake.
The New York City Ballet has done that for the Nutcracker for years and for an extra charge, you can have cookies and tea or apple cider with some of the dancers. Photos of the children with the characters are sold to the families with the option of having them autographed. People pay a lot extra for all this, but it makes them feel special. Special is a real keyword. Make a point of doing something that brings people in for something very special.
Thanks Joanne for sharing your wisdom on how theatres can increase their revenue. You can learn more about Joanne Bernstein on her website and read more of her advice on her blog.
If you have questions for Joanne, please post them in the comments below.