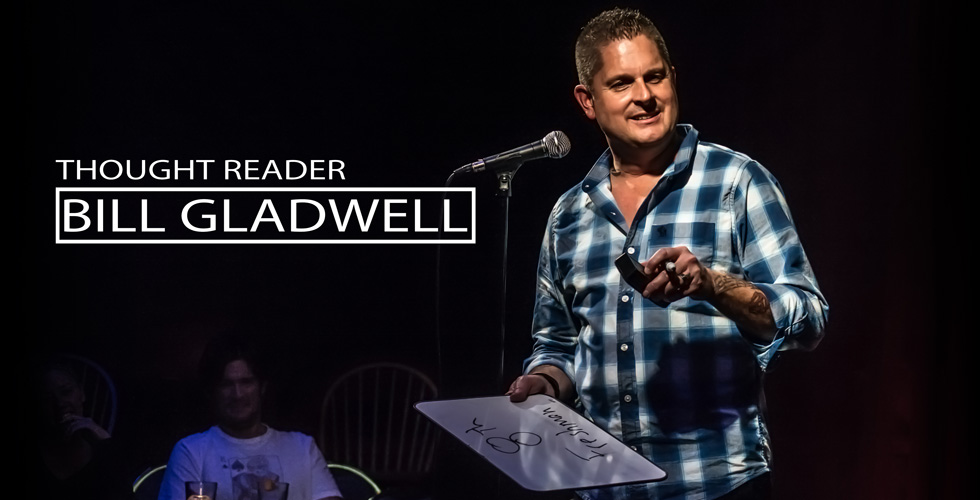 In our Client Spotlight series, we highlight some of our amazing clients who use WellAttended to manage their box offices. We are excited to introduce you to Bill Gladwell who performs five nights a week on Hilton Head Island. His show is ranked number one for nightlife entertainment. Learn how he gets followers on Facebook and Twitter and how he has over a hundred five star reviews on TripAdvisor.
Hey Bill! Thanks for being a part of our series. Can you tell us about yourself and your shows?

I definitely did not take the typical path to show business; i.e., an uncle showed me a magic trick when I was 7-years-old, my parents then bought a magic kit for me, I fell in love with magic, and I have been practicing since. I never sat in front of a mirror honing my sleight of hand, I did not compete in competitions, and I did not dream of having a nightly stage show.
In high school, I was introduced to hypnosis during an in-class experiment; and influencing others simply by talking to them as they sat with their eyes closed was a very intriguing skill when I was 17-years-old. With just a little research, it intrigued me even more. I learned it just wasn't about having people close their eyes while I spoke; it was guiding a conversation that produced a desired outcome… my desired outcome.
Within a couple years of graduating high school, I was a trainer of hypnosis as well as Neuro-Linguistic Programming™ (NLP™); and I became very good at helping people achieve what they wanted both personally and professionally. I developed a training program for employees of a hypnotherapy franchise as well as created the programs for their clients. At the same time, I had three hypnotherapy offices in Columbus, Ohio.
One evening, someone asked me to perform a stage comedy hypnosis show at his restaurant. I said, "No"; but he was very persistent, and he offered a nice paycheck. I performed my first hypnosis show in his restaurant, and the high of performing hooked me. I became a regular at his restaurant, people saw my show, those people hired me for their events, and I was soon a corporate entertainer. I closed all of my hypnotherapy offices, because I learned I could make $125.00 per hour in the therapy room and $3,250.00 on the stage for the same hour.
After 20 years of performing my hypnosis stage show, I wanted a new challenge, and mentalism seemed like the obvious next step. With my expertise in hypnosis and NLP™, I was confident I could put together a show that captured an audience's attention and left them feeling astonished. I did.
I opened my show in the Gatlinburg, Tennessee area playing three to five nights a week; and within six months, my show was #1 out of 60+ shows in the area. Now, I am playing five nights a week on Hilton Head Island with the #1 show on the island as well as the top rated thing to do when the sun goes down.
My show, Two Thought Minimum, runs 75-minutes; the room is fairly intimate at 100 seats; and it is highly interactive using 22 different audience members. The show highlights my ability to read nonverbal communication and influence others.
I still perform in the corporate market around my regular theater show; and I consult for corporations teaching their employees negotiations, networking, sales and influence skills.
You recently started the Hey! Look at Me! podcast where you interview various performing artists. What are your favorite episodes and what are a few things you have learned?
I started the "Hey! Look at Me!" podcast, because I wanted to pick the minds of standup comics. My performance is not influenced by other mentalists; my show is influenced by comedy and improv. I have always loved standup, and I spend as much time as possible in comedy clubs watching and taking mental notes. The ability to stand on stage with only a mic for 45-minutes and leave the audience wanting more has always intrigued me. When putting together my show, props and processes that are typically in the forefront of most mentalism shows are pushed to the background. The focus is on the interaction between me and my audience, and this is an art I learned from standup.
Some of my favorite episodes are Mike Armstrong, Dean Napolitano, Derek Richards, and Richie Byrne. Listen, and you will learn a lot.
Let's chat a bit about marketing. How do you build up your Twitter and Facebook followers?
Engagement.
My wife, who is a professional photographer, takes photos throughout every show. I introduce my wife at the beginning of each show, and I explain to the audience that she's a photographer and will be taking photos throughout the performance.
Those photos go up on my fan page on Facebook at Bill Gladwell LIVE. I invite anyone on Facebook to like my page; and if they see themselves in any of the photos, I invite them to tag themselves or at least comment or like the photo so I know who they are.
If they happen to be on Twitter, I put the link up on Twitter back to the photos. I invite them to follow me on Twitter @BillGladwell as well.
I also encourage them to take their own photos. All I ask is that they tag me when they post their photos on Facebook or Twitter.
This drives a lot of traffic to my social networks, and it also gets a lot of people putting photos up with me and my Facebook page tagged in them. I make it a point to always comment on their photos.
I know not everyone has a wife who is a photographer, but you can get friends or hire someone to take photos for you. They don't have to be professional photos; they just have to be photos you can put up on your fan page and on other social media accounts.
In addition to the photos, it is very important that you respond to any comments or questions left on your social media. As I write this, I have almost 25,000 followers on Twitter; and it can be a job simply keeping up with the tweets. Do the best you can as your social media following grows, but never ignore it.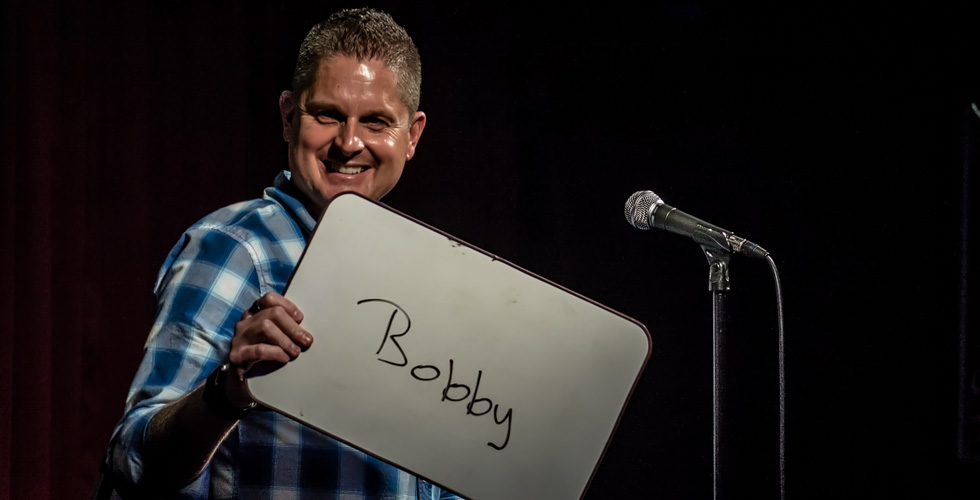 You have a ton of 5 star reviews on TripAdvisor. What role does that play in getting people to attend your shows?
In the Gatlinburg area, it played a 90% role; on Hilton Head Island, it only plays a 60% role. In other words, 90% of my Gatlinburg ticket sales came from TripAdvisor; on Hilton Head Island, 60% of my ticket sales come from TripAdvisor. Depending on how prominent TripAdvisor is in your area, it may play a very large role in getting people to attend your shows.
Can you let us know your secret to getting so many 5 star reviews?
Two words… I ask.
By using WellAttended to sell tickets to my show, I am able to capture any data on my audience that I want. One of the required data points is email addresses. After each show, I send each ticket holder a "Thank You" email; and in that email, I asked them to leave me a 5-Star TripAdvisor review and include the direct link to my listing. By making it easy for them to get to my listing and directly telling them what I want them to do, I get the outcome I want.
What are 3 of your favorite tools in your business? (Can be a certain microphone, lighting equipment, software, etc.)
WellAttended. I am not listing this as my #1 tool in my business to kiss up. WellAttended handles my main stream of income, and it does it very well.
Zoom Recorder. Zoom puts out a line of studio quality recording devices, and I carry one with me at all times. I record the audio of my show to help me tweak weaker parts, I record the podcast wherever the opportunity presents itself, and I record the audio track of my videos on a Zoom. Get one.
Google Voice. I have been using Google Voice for several years now, and I am very happy with it. In a nutshell, Google Voice gives you a phone number in any area code that you want, it acts as your main voicemail system, it transcribes your voicemails, you can text through it, it routes all of your calls, and it stores every call and voicemail you receive, and it's free.
How has WellAttended helped with your shows?
WellAttended is the lifeblood of my show. WellAttended handles all the tickets sales for my show, and the revenue is deposited directly into my bank account as the tickets are sold. It is a pleasure to wake up every morning with a new deposit from WellAttended and know that I don't have to worry about it.
What do you like best about using WellAttended?
Many people purchasing tickets are 50+, and WellAttended makes it very easy for everyone. Many times, technology can be intimidating to the older generation, and WellAttended makes the process of purchasing tickets online simple and streamlined.
Do you have any advice for people wanting to produce their own shows?
Learn from your audience and from your reviews. Take what your audience members say, and improve your show. If your goal is to make a lot of money and become known, never get stuck in your own bullheaded world doing what you want to do despite the reaction you are getting from your audience. Those people in your seats are buying your next car, your next home, and your next meal.
Thank you Bill for sharing your detailed insights on how you market your shows!
If you are ever at Hilton Head Island, we encourage you to attend a show. You can learn more about the Bill Gladwell and view upcoming shows at www.billgladwelllive.com. If you have questions or comments for Bill, please leave them in the discussion area below.