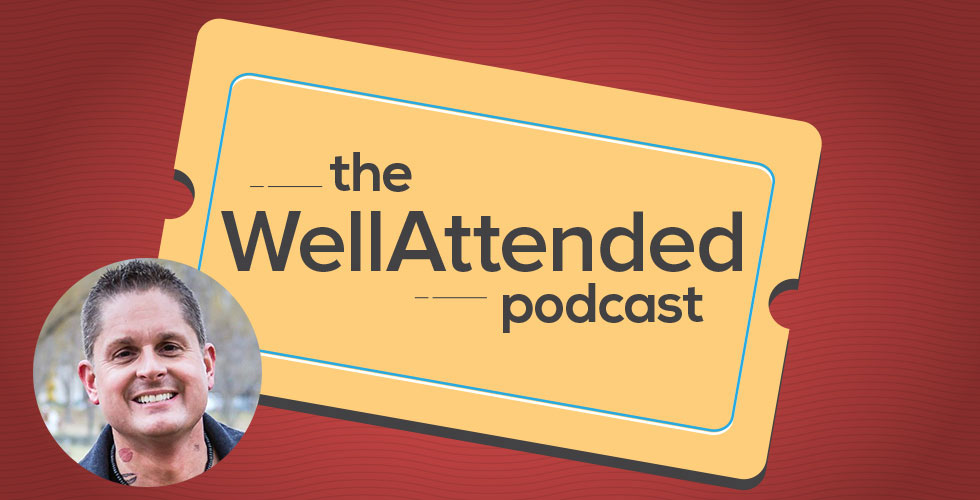 Learn how Bill Gladwell gets followers on Facebook and Twitter and how he got over 700 hundred five star reviews on TripAdvisor. We also discuss several tools that will save you time while promoting your shows.
Bill has studied and mastered the unique art of reading and influencing people, and he demonstrates his skill in a thought-provoking performance for intelligent audiences. He performs his show five nights a week on Hilton Head Island. His show is ranked number one for nightlife entertainment.
Transcript
WILLIAM: Today, I'm excited to introduce you to our client, Bill Gladwell, who has for the last 27 years studied and mastered the unique art of reading and influencing people. And he demonstrates his skill in a thought-provoking performance for intelligent audiences. He performs a show five nights a week on Hilton Head Island and his show is ranked number one for Nightlife Entertainment.
In this episode, learn how Bill gets followers on Facebook and Twitter and how he got over 700 5-star reviews on TripAdvisor. We also discuss several tools that will save you time while promoting your shows.
Let's get into it.
Thanks, Bill, for joining us today. Can you discuss a little bit about yourself and your shows?
BILL: I can go on forever about those. I actually started off right out of high school and I worked with Tony Robbins for a little while, and went to the guy that trained him, and went through Paul Ekman's classes later on, which is the guy that who's TV show "Lie to Me" is based on. But, I really got into hypnosis early on is what I got into and for therapeutic reasons.
I opened up an office in the home town where I'm from, I'm from Ohio originally, and started to see clients for weight loss, and to stop smoking, and things like that.
And after a few years, I decided it wasn't my personality to sit in a room with no windows and listen to people's problems. So, I went on the road and I began to do corporate work, and festivals, and fairs with a stage comedy hypnosis show, which was a little bit different for me.
I actually started off my college career as going for a Music major in piano. Then, I transferred over to Computer Science because it was the late '80s and early '90s, and then I went into law, and decided I wanted to do stage hypnosis. And so, it was what I ended up doing for about 20 years.
And I switched it over to a mentalism program and the joke that I tell professionals in the business is that I wanted to grow up, but I know there's a lot of older guys older than me doing stage comedy hypnosis. But, I wanted to do something that was different. I just got bored with the hypnosis after a long time.
And I put together a mentalism show that is about 75 minutes long and opened it in Gatlinburg Tennessee. If you're not familiar with Gatlinburg and the Pigeon Forge area in Tennessee, it sits at the base of the Smokey Mountains and between the two towns that are right next to each other, there's a little over 60 shows.
I ended up taking my show to number one out of 60 some shows, and I held it there for several years, and then I moved it to Hilton Head Island in South Carolina. Right on the coast of the Atlantic Ocean. I now have the number one show here.
WILLIAM: Did you have to promote your shows all yourself?
BILL: Yes and no. What I mean by that is when I did the stage comedy hypnosis show myself, it was corporate work, and fairs, and festivals, so that was all me. Nobody else was helping me.
However, when I got down to the Gatlinburg area and I found a theatre that was going to take on my show, two-walled basically, and if you don't know the difference between a four-wall and a two-walling, for anybody who's listening, four-walling is when you go into a theatre or some kind of venue and you pay for everything. You pay for the room, and the marketing, and any help that you need, so everything is out of your pocket.
With two-walling, you split the cost with the venue. So, what I did was we split a 70-30 split on the ticket sales, but it was also a 70-30 split on any expenses, so I paid 70% and they paid 30%. It seemed fair. It worked out for quite a long time.
WILLIAM: That's awesome. And is that the same, then, in Hilton Head as well?
BILL: Well, yeah, I have an even better deal here in Hilton Head because I do get the 70-30 split still and it's a comedy club, so I manage the comedy club so I get paid for that, and they pay for 100% of the advertising.
WILLIAM: Oh, wow! That's great.
BILL: Yeah, you can't really beat that, although I say you can't beat that, but then, we're moving and our next stop is out to Scottsdale, Arizona, just because on Gatlinburg, Tennessee, and if anybody is listening to this that is wanting a four or two-wall, this is a good learning lesson that Gatlinburg was a good place to get my feet wet.
Hilton Head is very nice because we wanted to move to a higher-end area and have it on a beach some place. However, on the East Coast here, it still gets cold in the winter and it's seasonal. So, tourism goes down and it just drops off completely in January, February and March.
We wanted to find a place that's more–when I say we, my wife and I–we wanted to find a place that's more year-round. So, Scottsdale has Phoenix that can pull from. It's got year-round tourism and when it gets really hot in the summer time, we can go to other areas of Arizona like Sedona and do the show there. It gives more opportunity, plus it is closer to Vegas and L.A. that we have some things going on.
WILLIAM: Right. That makes a lot of sense. Let's chat about how you marketed your shows. I've been on your Facebook and your Twitter accounts and I know that you have about 25,000 Twitter followers right now, and I'm sure that helps a lot with your marketing. Can you explain to us how you engage those people on Twitter and Facebook and how you're able to get so many followers?
BILL: Yeah, absolutely. The followers, you know, I don't know how I got so many followers on Twitter. What it comes down to is I think I had, you know, during the first month that Twitter opened and launched, I had a Twitter account. I think it was just the amount of time that I've had Twitter and I just keep amassing new followers.
With the shows, my wife is a professional photographer and so she takes photos throughout each of my shows and those photos go up in my fan page on Facebook, which is at BillGladwellLIVE. I also invite audience members to use their cellphones to take photos and they can use flash for my show. It doesn't really bother me.
And as they're taking photos, I want them to upload them and then tag me in them. I also invite them to come over to the fan page after we get the photos up to tag themselves or comment on the photos so I know who they are, which allows their friends, then, to see the photos on both the ones they took and the ones on my page.
I get a lot of extra followers and a lot of referrals from people that have been to the show that were in the audience from just the photos themselves. Now, I post after I get them on Facebook and on the fan page, I paste it on my personal page. They go on LinkedIn. They go on Twitter. It's a real simple process I use.
I don't know, William, have you heard of IFTTT?
WILLIAM: I haven't. What is it?
BILL: It's "If This Then That" and it's IFTTT.com. It's a free service and you go on and you can link several things, not just your social media, but your iPhones, your Android phones, your contacts. You can link if you have a home system that's hooked up to the net, so the Internet of Things, and you can build programs. So, for example, when I put them up on my fan page on Facebook, every 15 minutes, this looks at everything that I have connected and it runs the programs that I got set up.
So, when I put my photos on Facebook fan page, it looks at it and then sends the photos and post on my personal page, it posts on LinkedIn, it posts on Instagram, it posts on Twitter and all the other social media that I have and I don't have to do much of anything with it.
WILLIAM: Oh, wow! That's really convenient.
BILL: Yeah! I've been using that and I recommend this to everybody. But, after you get to use it and you link all of your accounts, and you begin to write the little– they call them recipes, but they're basically programs that you want things done. So, when you get your recipes in place, it automates a whole section of your life that you don't have to worry about anymore.
WILLIAM: Oh, wow! Because, I've used things like Buffer and Hootsuite, but those are specific, you write one post and then it shoots them out. And you're saying that it basically looks at your other social media, takes them, and then copies it to your other pages.
BILL: Yes.
WILLIAM: Wow!
BILL: Take a look and it's free. There's no charge at all on this. You can get it on Android and iPhone and on your laptop or desktop or whatever you use.
WILLIAM: Now, after every show, how many people do you think are posting on Facebook, posting on Twitter, and following your directions of posting those photos?
BILL: You know, I get tagged in a lot of photos that are on their pages. And so, not everybody can see them, depending on the security settings that they have for Facebook, and Twitter, and things like this. But, just from what they comment on my Twitter and my Facebook fan page, it's not a whole lot.
Our show room would seat about 88 people and if we fill that thing up, we'll get about five. So, it's not a whole lot, but it is if you'd get those from each show, which we're doing five shows a week, that adds up and those people tell other people and it works very well. I get more on TripAdvisor.
WILLIAM: Oh yeah. Let's talk about that.
BILL: And I consider TripAdvisor social media because it really is if you treat it that way. We send thank you cards out and I ask people to rate us on TripAdvisor. Right now, I think I'm standing at 112 reviews for Hilton Head. When I left Gatlinburg, I had over 700. Out of those 112, 111 of them are 5 stars. One of them is a 4 star and everything else is just up there.
In a tourist area, whether it be Gatlinburg, or Hilton Head Island, or even Scottsdale, Arizona, people will go on as they're planning on their trip, before they get here, and they'll see what the top-rated things are. And right now, I'm the number one show on the island, which isn't hard because it's the only show on the island, really. We have the comedy club that I ran, which is the number one night life thing, so I guess you could consider those shows.
But, in Gatlinburg, Tennessee, it was more important because you had 60+ shows and being in the Top 5, people came to Gatlinburg, Tennessee with a part of their budget set aside to go see at least one or two shows in that area, so they were expecting it.
WILLIAM: And in Gatlinburg, what percentage of people do you think came to your show because of your highly-reviewed ratings on TripAdvisor?
BILL: I don't even have to tell you what I think because I track everything, so 92% of people did. Again, they would come and if you were in the top 5 shows, that's all people really looked at and I have the number one show there for several years, so I filled up the room every night.
Here, it's a little bit different because people don't necessarily look at TripAdvisor every time. They hear about it through the concierges. So, I get about 70% to 75% from TripAdvisor now. There's a magazine here called Island Events that I get another about 15% from and the rest of them come from concierges.
WILLIAM: Now, if your event is in a tourist destination, you know you've kind of proven that TripAdvisor's a big deal. What about if you're in a town like Chicago, or Denver, or Oklahoma City, where people might not be going to those cities specifically to see shows. Do you think TripAdvisor will still play a big role in helping fill seats?
BILL: You know, we're about to find out because we're moving up to Scottsdale, Arizona and so, I can better answer that after we get out there and play around with it a little bit. But, I do know– and William, you know who these guys too, Christian and Katalina?
WILLIAM: Oh, yes.
BILL: And they're in Indianapolis, Indiana and they're friends of mine. They do a mentalism show and they have for several years now, four or five years, in downtown Indianapolis at the Hilton. They use TripAdvisor and they have very good reviews on TripAdvisor. That's not the sole thing that they use, but they said they get a good number of their audience members from TripAdvisor.
WILLIAM: So, it would be definitely worth someone's time then if they're doing an ongoing show to get up on TripAdvisor, start getting reviews just as another way to start promoting their shows.
BILL: Absolutely. I believe so.
WILLIAM: And then, you said you had over 111 5-star reviews right now?
BILL: Yes.
WILLIAM: How do you get so many 5-star reviews for your show? I mean, I've seen your show. It's a great show, but how do you get people, for one, to go to the site and, for two, to give you that 5-star review?
BILL: You know, I ask. A lot of people are afraid to ask. The people I found that are afraid to ask are people that have sub-par attractions, or restaurants, or facilities. And so, the first thing you have to do is make sure that you have a really good performance, that you have a good show, and that people rave about it.
And then, I send thank you letters out because the ticketing services, yours specifically, has email. It collects people's email as they purchase their tickets. So, I have a list of everybody that was at the show at least one person from each party. I can send thank you letters out to them and I ask them, "I hope that I gave you a 5 star performance and if I did, I'd like you to leave me a 5 star review on TripAdvisor." William, I think I sent you that letter, didn't I?
WILLIAM: I'm not sure, but I'd love to see that.
BILL: If not, I'll send it over to you a bit. During that email that I send out to people, I must mention, "Please leave a 5 star review six or seven times." I'm very specific that I want a 5 star review.
WILLIAM: Now, do you think that's leading them on a little too much or do you think you need to do that in order to get people to go to the website and post those reviews?
BILL: Probably a combination of both. I think I do have to have people do that and remind them to do that or they'll forget because they're on vacation and a lot of people won't review until a month later after they're home and they're thinking about it, they're sitting at their computer and they get time. A small percentage of them, though, will leave a review immediately after they leave the show. And so, I want that reminder in front of them.
I specify a 5 star review because that's what I want. They don't have to leave one, but I found out that when people review anything, whether it be on TripAdvisor or Yelp or just any other kind of survey, that you have people that tend to rate everything low or in the middle, and some of them rate everything in the high end.
Those people that rate somewhere in the middle even if it's an excellent show or excellent facility, or low, maybe they'd give like a 4 star to something that another person would give a 10 star to, I want them rate in TripAdvisor's 1 through 5. I want them rating 5 stars for my show.
WILLIAM: How often do you send an email? Do you just send one email to those people? Do you send one or two and track that? When do you send those emails, a day after the show, two days after the show, a week after the show? What have you found worked the best to get those people to open it and then, also to leave that review?
BILL: You know I do track it. I use Contactually, which is a customer service manager CRM, a relationship manager, I guess. I think I pay 40 bucks a month or something like that. It has all of my contacts and I can export from the ticketing service and import into that. I can tag them with the date. That way, it's easy to send everybody an email, but the way that it sends it, it looks like it's a personal email to each person.
You can't send a mass email, at least, in my opinion. I'd rather have it personalized. So, even though I'm sending a mass email, it doesn't look like one.
WILLIAM: So, you're using Merge tags basically to put in their first name and their last name?
BILL: Yeah.
WILLIAM: Okay.
BILL: Exactly. And then, since my wife is the photographer, as soon as she gets those developed, I put them up on my website. At that point, that's when they get the email because I put a link in the email so they can go to the website and see their photos. That's the incentive of sending the email or the excuse for sending the email.
At the beginning of every show, I explain that we're going to be taking photos and those photos go up on my fan page on Facebook, so please go there and like it if you can right now. And if you're not on Facebook, go to my website which is BillGladwellLIVE. You'll see all of my other social media and the link will be up there, also.
On top of that, if you bought tickets online–and we even do it at the door–and we have your email, I'll send you out an email that has the link back to the photos as soon as we get those up. And so, they know that the email is coming with the link to the photos. And there's also a thank you letter for coming. It has the link to the photos and then beneath that is, "Please leave a 5 star review."
WILLIAM: So, that's great. Instead of people getting surprised that, "What is this email? Why am I getting this?" you've already told them, "Hey, we're going to send you an email with the photos. Get those photos. Share them on Facebook. Share them on Twitter," which is once again, engaging them, getting them to post things about your show and then, at the same time, you're trying to get them to leave that 5 star review on TripAdvisor.
BILL: Correct. Exactly.
WILLIAM: That's great. Yeah, so if you're listening, I think this is a great way for you to start building your engagement and start getting those 5 star reviews on TripAdvisor.
Do you have any other advice for people building a mailing list, building 5 star reviews on TripAdvisor, or building that social media following?
BILL: I have the mailing list on social media too. I can't remember how many followers I have on the Facebook page. I think it's over 5,000 or 5,080 or something like that. So, technically, that's a mailing list. I can send out things to them, too, directly through my page, although you have to pay for that now on Facebook.
Sometimes on Twitter things get lost because a lot of times, people have so many Twitter followers that each individual tweet gets lost in the mix. So, if you can tag people, that's always better.
But, you know, from the years that I was in Gatlinburg, Tennessee, I saved and I amassed that contact list. They still get emails from me because people take more than one vacation in different places. So, even though they went to Gatlinburg, Tennessee one year, they may come to Hilton Head Island another year and I have had people already this season that have seen me in Gatlinburg.
From that email that I sent them, to let them know that I moved, and from the periodic updates that I send out, they remember me, and they come here and they buy tickets to the show. So, it's a lot of repeat business.
WILLIAM: Oh, that's great. And especially since you're in a tourist area, these people aren't locals. They're from all over. And so, whenever you move to Arizona, you can still mail out the same list and hopefully some of those people will come see you there as well.
BILL: That's right, because Hilton Head Island is a kind of prominent place. We have John Mellencamp that lives here, and Reese Witherspoon, and several other people like Bill Murray from Caddy Shack. Bill Murray doesn't live on the island but he's here quite a bit and he lives near here. So, we have those, you know, the money comes here to the island.
And so, they travel from all over and not just from the United States, but from the UK and every place else. We get people here from California, which kind of surprises me. It's a small 12-mile island but people come from L.A. They fly and they come from Washington State.
So, when I get out there to Scottsdale, I have a very good feeling that a lot of these people that even have been here will be at the show in Scottsdale at some point.
And also, Gatlinburg, even if it's kind of a hick town, it's a bunch of moonshine places and it's a tourist trap for Ripley's Believe It or Not, but it sits at the base of the great Smokey Mountains and it's a tourist attraction for the world. So, we had people from out of the country and people from all over the country that would come there. It's from all over. So, keep those lists no matter where you're performing at.
WILLIAM: That's a great advice. Do you have any favorite tools that you use? We already talked about several of them. Do you have any other tools that you use to help market your shows and grow your business?
BILL: Yeah, I have all kinds of tools. The IFTTT is a good one, so remember that. In my phone, more than anything else, because I use Google Voice for my phone calls. And if you don't know what Google Voice is, it's been around for a while. I don't know how many years exactly, but I've had it since the start.
It's a voice mail system, but it's more than that. They give you a phone number, Google does, which is yours and you can keep it. You can pick any area code that you would like and you can forward your calls over from any number. And on my cellphone, actually, it is also a voice mail for the club where I perform, and they go there.
You can have different outgoing messages depending on the different groups. So, for example, my family will call and they will hear one outgoing message. And then, the people that are inquiring about tickets will hear messages about that. And those are logged into Google.
So, I have everybody's phone number in there, plus it transcribes every voice mail that I get. It's Google, so it does very well. And I don't have to listen to them, but at the same time, I have a historical record of every voice mail that I've ever received for the past six years. So, it's a very good tool to have.
WILLIAM: And we use that for our business as well. And let me just get this straight, so if I were to call the theatre, the comedy club there in Hilton Head, I would get a voicemail for that specific comedy club, but if you wanted to forward that number to your cellphone, let's say you're at work and you want to answer the phone yourself, you could, then, tell Google Voice to call your cellphone when that phone rings. That way, you are there, you pick up the phone and they hear you.
And then, when you're off of work, you can put that number back over to the comedy club's voice mail. And whenever people call in that same number, they'll be hearing the comedy club.
BILL: Yeah, with a click of a button, actually, you can do that online, so it's really easy to do. I actually have all of the phone calls answered for the club by Google Voice and the reason because we get so many. Last season, I did not and I was taking calls all day long. So, I think I have a very good outgoing voice mail message now and it explains when the times are, what shows are at the club, and how they can get tickets online.
And then, the last thing is, if you need to get a hold of me, leave a message or text because you can also text that number and it goes to me. So, that's the last resort. I do get some people that leave voice mail messages if they have a group or if they want to know if it's appropriate for kids. But most people, this will force them to go online and the ticket sales seem to be more automatic that way.
WILLIAM: And then, that saves you a lot of time if you need to start promoting the show or pick up a talent or whatever other work you do instead of sitting there answering the phone all day, you can have the voice mail take care of that and direct people to your online store so they can buy the tickets there.
BILL: Yeah, absolutely. It saves a whole lot of time.
WILLIAM: Right. That makes a lot of sense. So, do you have any parting advice for people that are either looking to have their own shows and start them up or have been doing it for a few years, but they're trying to get their show more popular?
BILL: Yeah, if you're just starting up, I'd say just do it. And what I mean by that is a lot of people think about it and they never follow through with what they want to do.
You know, I was kind of like that. I did the stage comedy hypnosis show and I had always thought about getting it in a more stationary spot and into a venue, a theatre, or some kind of comedy club or something like that.
The thing that pushed me over the edge was 2008 when the economy went sideways with everything and I was doing a lot of corporate work. That was the majority of my income. The first thing that corporations started to cut was the entertainment at their meetings and parties when the economy got bad, which means my income took a hit.
And so, I was trying to figure out what to do and I looked up Branson and Las Vegas and Penn and Teller. Teller, he actually said, if you can do it at any place else, don't come to Vegas. He said it's just too difficult and there are too many people out here now.
WILLIAM: It's really saturated out there.
BILL: Yeah. So, we're looking at Branson, and Vegas, and Atlantic City and at Gatlinburg. And Gatlinburg was only six hours from Columbus, Ohio, which is where I was living at the time. So, that's where we made the move down to Gatlinburg and within about five months– It took me about four or five months to find a theatre. I didn't have a problem speaking with all the theatres, but they just already had their acts booked for the season and I found one that have some space open and very quickly, within a couple of months, we took the show to number one and everything else was history.
WILLIAM: Right. That's another question I was going to ask. How long does it take you, if you start with a theatre, to become profitable? Is that a week, two weeks, a month, two months, where you can actually start seeing whether or not this is actually going to work or not?
BILL: It all depends on what you're spending out on advertising for the show and for some of the services. For example, some ticketing services cost fees, I mean, they're a large amount of fees and other ticketing services just take a cut of the tickets or they add their fee on top of the ticket sales. And so, there are different ticketing services in-between, too.
I know with yours, I liked because there wasn't a fee upfront. It was just you added your fees to the tickets, so it was really nice.
WILLIAM: Right.
BILL: And so, if you get into a tourist area, I relied on TripAdvisor, so my advertising cost was very low. We'd have to get rack cards which are like 4 1/2 or 4×9, almost like postcards, that go into the advertising racks in tourist areas. Those aren't expensive, you know, 600 bucks will get you a few thousand of those.
And so, we got those and just started sending those around and talking to the local attractions and the lodgings, the concierges at the resorts, and TripAdvisor, and just that effort, it kind of pushed people to us. So, we were profitable within the first month.
WILLIAM: Oh wow!
BILL: And when I say profitable, I mean, profitable enough where I don't have to do anything else. So, it was nice. And then, I'd say by the end of the second year that I was in Gatlinburg because every year, you have families coming back and you have also families referring other people. It's the same thing here on Hilton Head Island, but it's very easy to make each year a six figure income.
WILLIAM: Oh wow!
BILL: Yeah.
WILLIAM: And especially, you know, it's kind of a long game, then, like the first year, you're going to make some money, but then, second, third, fourth, that's when it starts to really start adding up.
BILL: Yeah, that's right. And then, you have nights, though, it's a tourist area, so you know, there's some downtimes, like two weeks ago, like tonight, we have a show this evening. It's July 5th right now, so a day after July 4th. It's a busy holiday right now for the island and it's packed.
We have a very nice show for tonight and a good audience attendance. But then, last week, I did a show for six people in one night.
WILLIAM: Oh, right. So, it fluctuates.
BILL: Yeah, it fluctuates. You know, over time, over the season, it's a very good season, but you'll have those nights. So, you just can't down about that when you only have six people because those six people still came to see you. And you know, people who are here this week, so they were putting off their vacation since the holiday was a long weekend and so they just skipped last week and started coming on Friday and Saturday. Now, they're here for the week, so this week is really good. So, it's an average thing. Over the span of the season or span of the year, it all works out.
WILLIAM: Where can we stay up with you if we want to find more information about you and your shows and maybe come see one?
BILL: Twitter, Facebook, everything like that, but everything is on my website which is BillGladwellLIVE.com.
WILLIAM: Alright, great. Well, thanks so much for coming on the show, Bill.
BILL: You're welcome. It was a pleasure.
Show Notes:
Ifttt
buffer
Hootsuite
TripAdvisor
Google Voice
Bill Gladwell
Bill Gladwell's Client Spotlight