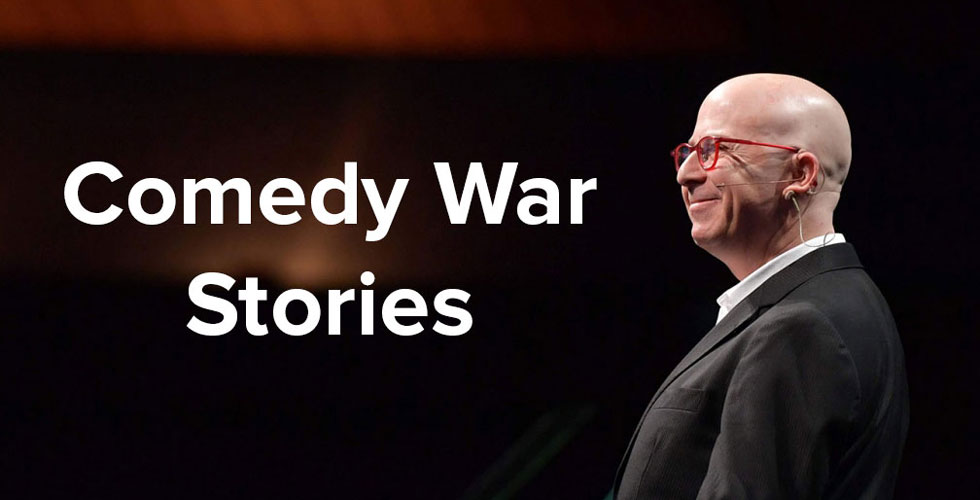 We have a new audio recording with Brad Montgomery that you can listen to for free! Brad sold this on his website for $20, so grab it today before we realize that we've lost our minds.
What is Comedy War Stories?
If you're like us, you love hearing crazy fiasco and disaster stories from folks about their jobs. You may also think it's fun to her what comedians talk about when the show is over. And you may want to learn about the crazy things that happen to speakers on the way up the career ladder. Well, lucky you! We have a 65 minute audio recording that you'll love.
Corporate Comedian David Glickman and Brad Montgomery recorded a once-in-a-lifetime program when they were working together in California, and we're lucky they got it on tape.
This audio recording is a hoot. David and Brad tease each other in a funny way, and the stories (all of which are true) kept the audience on the edges of their seats.
In Comedy War Stories You'll Learn:
Some crazy things that happen to comics new in their career.
What happens when an experienced corporate comedian, who's paid big bucks, fails to deliver. Do seasoned pros bomb? And what happens?
The craziest thing that happened to Brad during his career when he worked for college audiences and what that has to do with pizza.
The story behind David pranking Gloria Estefan.
The comedian who is on the list as being a known racist. (Hint: It isn't true. And it isn't Brad. But is IS very funny.)
This is a live recording, and it was one of those once-in-a-lifetime events that will never be repeated. The energy between these good friends is terrific, and the audience was having a blast.
These are not excerpts from their polished stage performances. These stories are told off the cuff and with enough heart and humor to keep you laughing. Unrehearsed and unpretentious. Often painful. And always true.
So, peek behind the curtain and learn what really happens in the sometimes not-so-glamorous world of show business. Get ready to laugh, because it's Comedy War Stories with comedians Brad Montgomery & David Glickman.