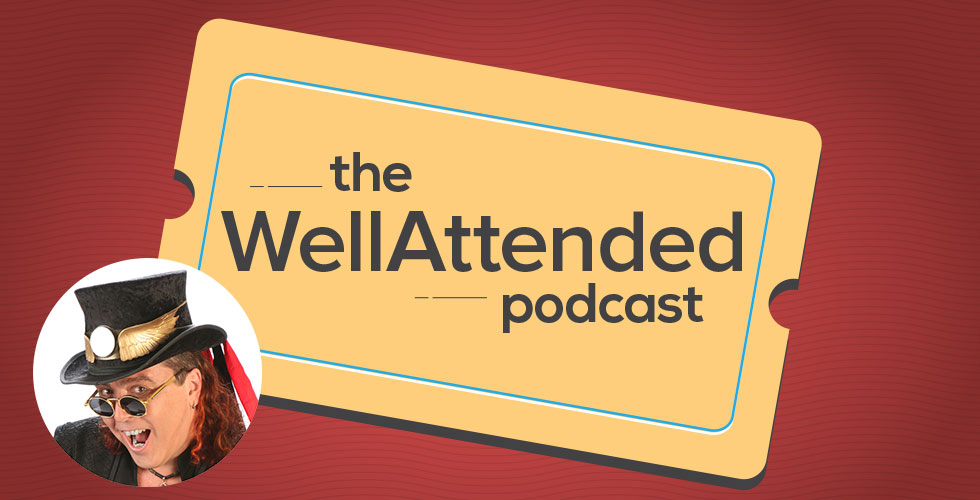 Jeff McBride discusses how he produces a successful monthly variety show in Las Vegas. He talks about how he started the Wonderground, why he made it a variety show and how that helps build his audience, he explains the differences between radiant and magnet marketing, and how he makes his guests feel special.
Jeff is a three time award winner at the International Grand Prix of Magic in Monte Carlo and is widely recognized as an innovator in contemporary magic. For several years, Jeff headlined at Caesars Magical Empire in Las Vegas, where he was voted critics' choice as Best Magician in Las Vegas. He is also a three-time Guiness World Record holder.
Jeff has been featured on every major television network with appearances on The World Magic Awards, Masters of Illusion, Celebracadabra!, and Mindfreak. Jeff has even gone where no magician had gone before as a special guest on Star Trek: Deep Space Nine.
Transcript
WILLIAM: Today, I'm really excited to have Jeff McBride on the show.
Jeff is a three-time award winner at the International Grand Prix of Magic in Monte Carlo and is widely recognized as an innovator in contemporary magic.
For several years, Jeff headlined at Caesar's Magical Empire in Las Vegas where he was voted critics' choice as Best Magician in Las Vegas. He's also a three-time Guinness World Record holder. Jeff has been featured on every major television network with appearances on the World Magic Awards, Masters of Illusion, Celebracadabra and Mindfreak. Jeff has even gone where no magician had gone before as a special guest on Star Trek: Deep Space Nine.
In this episode, Jeff discusses how he produces a successful monthly variety show in Las Vegas. He talks about how he started the Wonderground, why he made it a variety show and how that helps build his audience. He explains the differences between radiant and magnet marketing and how he makes his guests feel special.
Let's get into it.
Hey Jeff, thanks for coming on the show.
JEFF: Hey, it's great to be here and it's great to meet a lot of your listeners. I hear the show is really growing and that's exciting.
WILLIAM: Definitely. To start, can you tell us about yourself?
JEFF: Well, I wanted to be a drummer. This has all started with me wanting to be a drummer, so I guess that then forms a lot of my style and the energy of my style in musicality.
And I was taking out books on music when I was a kid in the library, you know, 7 or 8 years old and I want to be a drummer. And there were magic books right next to the music books and the first thing it said was never reveal your secrets and I said, "Wow. Somebody made a terrible mistake by leaving this magic book in the library," so I kind of made it disappear into my personal collection until I graduated.
But, I'm really book-taught in upstate New York in the Catskill Mountains, about two hours from Manhattan, and there wasn't really any other magician up there. So I got to just kind of study at my own pace and the only magic that there was, was either very little magic on TV, but magic books.
And I would travel around with my parents when I was a kid to all the different libraries from all the different surrounding towns just to see if they had magic books. I mean, we weren't even, like you know, savvy enough or tuned in enough to know that you could call libraries and check, but I think we got a little bit better at that when the librarians told us that was an option so we could save some mileage.
But, I just read everything and every little old, dusty antique store, toy store, I would pour through and try to find the junk magic, whether it was no novelty magic or old slum magic, as they call it, I would gobble it up, old magic kits. Whatever was there, I would digest it.
And then, you know, I was a boy scout, so you get boys like magazine and in the back of the magazine, it says, "Amaze your friends. Become the life of the party." And I guess that was the program back then. So, I sent away for all those magic catalogs from Flosso's Magic Shop and Top Hat Magic.
And I thought I was ordering magic books but they were magic catalogs and all the tricks for about 50 cents or a dollar. A very expensive trick would be $3.00, you know, this kind of tricks for kids and because I got the Johnson Smith catalog. I don't know if anybody remembers that. And you just get tricks, jokes and gags and do them for my friends and then I got a little bit more serious and serious.
People liked what I did. I just did it for friends and then birthday parties. And then, I grew up in the Catskill Mountains so there were hotels there. So I had a goal to get a very adult professional show together to work these resort hotels.
Now, resort hotels at the Catskill mountains had people like Dean Martin and Don Rickles and Jerry Lewis and this kind of old TV stars, which we know were in their prime then, and they would have these big shows with comics. And there were a few magicians working up there, not very many because it wasn't very conducive for them.
The stage and just the format, was usually a comic opener and then, a headliner singer. But I cut my teeth on that rather young in my teens, so I got some opportunities that some of the hotel owners said, "Let's give this kid a break." And I started working at hotels like the Brown's and Kutsher's and the Concorde and doing these real old school places and getting real-world experience.
But, meeting the old-timers, meeting the old-time comics that would help me and give me advice on my act, on my costume, on my shoes, on my props, and it was invaluable. And that's really how I got my start, you know, just giving it away for free until people thought it was good enough to pay for and then, gradually, putting an act together, which had music in it.
Back in the day, I had to run my music off of a record player. There was no other format, you know, reel to reel, those were expensive. But, you know, that was how I got started.
And then, in high school, I got to take some time off, a couple of months out of high school, because I got hired by a friend of my father's, who had a Latin band called the Fania All-Stars. And I toured Japan with my dove act at 16 years old playing like major thousand, 2,000, 3,000-seat theatres and big outdoor venues up to like 5,000 people. It was really spectacular and it scared the crap out of me.
You know, 16 years old, here I am in Asia and I have to rent doves, you know, a guy shows up with a little basket full of doves that somehow the producers arranged. Then I have to use these rented doves from a guy named Silky Nagisa–I think he's still around–in Japan for outdoor venues. Can you imagine? My first gig in Japan in 1976, I'm 16 years old. I've rented doves and it's outdoor venue.
WILLIAM: That's awesome.
JEFF: Yeah. Well that was quite a training for me and I got a lot of confidence for that and I worked fair dates doing four or five shows a day for many, many years. It was just, you know, how I got my start was just doing as many shows as I could in front of as many various audiences in all of the weird conditions you can possibly perform in. And that's something I share with my students today when you're starting out.
You just got to do as many shows in as many places for as many different people and each and every show will teach you something about travelling the show, getting to the show, setting up the show, striking the show, problems that can be happening, problem personalities.
There are so many life lessons that I've gained from working in all of these various venues, in all of these different party conditions and concert conditions and that's what I carried into my work.
And I learned so much about gigging that when I moved to Manhattan, as soon as I was out of high school, there really wasn't any magic college to go to like we have Mystery school now, but you couldn't go to any magic college, so I went right to New York City to study mime at the American Mime Theatre, and then worked all of the clubs in New York City that paid nothing because we're so many performers wanting to perform and very few places set up to do a manipulative magic act, you know, it was a rock and roll club.
So, I had to create a rock and roll show that could play in front of a band setup on the edge of the stage where the band was because they weren't going to clear the stage for me. I'm the opening act. You get out there and do your thing.
So, I had to design an act that could play to big rock and roll clubs on this elevated stage with very little foot space because I'm stepping over the wah-wah pedals and all of the different speakers and monitors and mic cords and all of the stuff that's at the edge of the stage, so I have to get very practical.
At that time, this is during like the 70's and 80's, nobody really wanted to hear a talking act because if people would just yell, so the key was to turn up the volume and have some really cool music playing. That's how I developed my style with the white face and the mask and the Kabuki and very physical and martial arts. It was a very "yang" powerful act that could hold a room of rowdy partying rock and roll fans that was really there to see the headliner, but they had to watch me and I would rather them like me than just suffer through me. So I really worked on getting a good show that could really win those crowds.
And then, finally, I got picked up by a manager named Bill Barnes working in New York City. And he took me from working for a hundred dollars a week to like $3,000-$5,000 a week in Atlantic City, opening for Diana Ross. And then Diana Ross took me on tour on and off for two years all over the world as her opening act.
And Steve Wynn saw me and I got to Vegas and he was just refurbishing the Golden Nugget and made me the house opening act at the Golden Nugget for all the stars there. I got to work with Sinatra and Alan King and Dionne Warwick and George Carlin, Paul Anka. I got to work with some of my heroes. I got to open for Alice Cooper. That was one of my role models.
It was because I got theatrical training in New York City–dance and mime and theater–and I got to study and take lessons with the pros down there that I gained a lot of insightful information. I think it's really hard unless you have personal teachers to be a success in this business if you're just going it on your own. And you don't really have to, but if you go it on your own, I think it's going to take a lot more time.
So, I think one of the keys of my success was reaching out and asking for help, and people will give it to you. The world wants to help, but as the poet Rumi said, "You have to ask for what you want," so I asked.
WILLIAM: So, let's talk about your show at the Wonderground and because you're in Vegas now, can you tell us about the Wonderground and what type of show that is?
JEFF: Well, this show was inspired by a lot of the variety show cases in New York City and I used to live on 52nd Street and 8th Avenue and right around the corner was Studio 54. Across the street from Studio 54 was a little place called [00:11:40] and [00:11:42] is no longer there, but it was very famous for launching the careers of comics like Freddie Prinze and a lot of these guys that came up in the 70's, and they had a showcase night there.
Thursday, Friday and Saturday night, three nights a week, and it would go on for about two hours, and the emcee there, the house emcee I'm still in contact with on Facebook, his name was Jerry Sheldon. And they would have open mic for three nights and I would work out there and work out there. And there were some fine acts working in a very little space, a little turn down stage, you know, that would flip down from the wall, very difficult angles and conditions, but we made it work, and I worked out there and worked out there and worked out there.
And you'll learn later on that that's how people like Jay Leno did. Jay Leno was like every night he could, he was at The Comedy and Magic Club in Hermosa Beach working those monologues. It's the people that do the most shows that get the best. It's a numbers game. Copperfield and Penn & Teller do the most shows and they're the wealthiest and the most productive and well-produced shows, probably, in the world, and the people that are doing that many shows are right behind them because just doing those shows it's like, well, I call it the rock tumbler of life, it just smooth off all the rough edges.
When I was out here in Las Vegas, I was doing–get this–four to six shows a night at Caesar's Magical Empire. And they were half an hour show, balls to the wall, illusion, high energy dance, theatrics, masks, quick change, and then Bang! Do it again. Bang! Do it again. Bang! Do it again six times. You had to be just really, really polished.
And when Caesar's Magical Empire closed, I'm on a habit of doing lots of shows and working on lots of new material because I work on lots of new material not only for my videos. I take out a new show every two years and I need new material, like I'm going back to the Mercury Theatre. I need new material.
So over the years, we used to have a place here in Vegas for three years called the Wonderdome, which was a giant inflatable dome that was Burning Man-inspired that was made out of parachute material. It was inflated by giant fans and it was in a warehouse and it was surrounded by these giant Barco projectors so we had like immersive video on the thing.
And it was a place for extraordinary events and we couldn't go public because of the zoning and some of the litigations surrounding some of the fire codes and you know, just bureaucracy. But, it let us kind of create this community of people that wanted to do performance art and shows together. And again, it was variety artists who were dancers and jugglers and acrobats and comedians and contortionists, marionette artists. There are a lot of acts in this town.
And when the Wonderground closed, I was looking around town for a venue to do something once a month. I was made friends with the folks down at this place called The Olive and over time, they expanded and expanded again and they created this giant club room, and I said, "Okay. I'll do one event." I invited Rudy Coby and Bizarro and Scott Hitchcock and some of my other friends and a great poet Sean Critchfield, who's like a slam poet.
It was a real eclectic variety show of belly dance and magic and of course, we still have the live body painters and live painters and tarot readers in a kind of a mystic sideshow going on there.
People want to celebrate and create and I had wanted to do a show on the Strip, but it's so challenging to market on the Strip unless you're the Cirque du Soleil. It really is. I don't think people really understand how much you have to pay to play in this town.
There are great shows that come in here that are multi-million dollar spectaculars like Hans Klok that ran for a couple of months and then fold. Hans Klok is one of the top magicians in the world and one of the top money earners, but he couldn't keep a show open in Las Vegas, but he is keeping his show open all over the world because he played Las Vegas.
So, people like to play Las Vegas and Hans Klok did a really powerful show here. He was really well received, but at the same time it didn't have the legs that a show like Copperfield or Penn & Teller has because they have the constant television exposure.
So, how am I going to create a venue in Las Vegas? We have been doing these Wonderdome parties, this kind of underground art happenings for many years and we just kind of called on that art community to come and celebrate with us here. And one of the keys was it was free admission, two drink minimum because that's a deal breaker for people, sometimes the price of a show.
So, in order to get people into the venue, one of our marketing strategies, which is one of the old-school Vegas strategies for doing a lounge show, is free show, two drink minimum. People would show up and "Oh, what are the two drink minimum?" And they'd get two drink tickets and they'd come in and they would see this fabulous 3-hour show. There's an hour comedy show and then an hour of close up magic and then, another hour of variety show. It's not a theatre. It's a club.
When people come to the Wonderground, it is a hookah bar. There is Middle Eastern food. There are belly dancers. There's live art. It's a totally immersive experience there. You feel part of the action. You're sitting here and sitting right next to you is Lance Burton and over there it's Gerry McCambridge and Oh, Mat Franco dropped in tonight. And there's Xavier Mortimer and when Criss Angel gets off, his posse is going to come down at 11. So, you never know who's going to be there, but it's a melting pot of magicians.
And we don't really advertise. I mean, we're in the listings, which is nice and in magazines we're in the listings, but we don't advertise because we're always full. One of the problems is when there's too many people, it becomes un-fun. We want it to remain fun.
And so, after a couple of years of doing it and people heard about it, and people come from all over the world. The Clairvoyants, Thommy Ten and Amelie from America's Got Talent, their first performance in Vegas was the Wonderground. They said they'd heard about it, it's a venue, it's a stage, and interestingly enough, the format is we have an emcee and we put on three or four variety acts on the first show. We have about six close up magicians doing strolling and bar magic during the second, kind of a strolling magic, close up magic, bar magic set.
And then, the third show is the stage extravaganza. Those are usually music-driven acts because by the time it's around 10 o'clock, 10:30, the club has very high energy. It's not a talking room. It's a big party going on. So I have to know the type of acts to book that are very visual and dynamic and really grab the audience, whether they're contortionists or gymnasts or Niels Duinker, the incredible juggler or like contortionettes, which is a combination of marionettes and contortion. It's unbelievable.
We have some astonishing acts played there like Rudy Coby comes in and Amazing Jonathan drops in. He's been dropping in honing his skills. Who else do we get in there? Dan Sperry comes in. Xavier Mortimer is there down all the time.
So, we get a lot of people and these people are working out the material on stage for their shows and for their television shows because they got Penn & Teller's Fool Us. You got America's Got Talent and people have to work out these routines before they take them to TV. And interestingly enough, Wonderground has had on its stage more variety acts, more magic acts than any other venue in Las Vegas.
WILLIAM: That's impressive. Now, how long did it take you to build up your audience from kind of the first show to where you are now where you don't even have to advertise?
JEFF: Well, one of the keys is giving billing to the supporting acts that are playing and letting them kind of know there'll be as many people in the audience as you invite. And I think that's important that they know that the onus, that the weight isn't just on Jeff to fill the room for you. It's that, you have to market and the way we do that is we have a website that is Vegaswonderground.com and we list all the new acts there every month.
And we also put them out in my newsletter, which I now have 18,000 people on my newsletter, which is the opt in newsletter, which has been building for since, I would say, 2002 was the first time I put out a newsletter. I am constantly building that mailing list and every month, I publish that list of who's going to be at Wonderground and that gets picked up by other Las Vegas entertainment listing, websites and blogs.
I'm kind of in a queue with other people that advertise entertainment events or are sources of information on entertainment, so I'm in their pipeline, so I get placement. And just because I built it up over the years, people like Robin Leach, you know, Lifestyles of the Rich and Famous, he's got a column here named Vegas Deluxe and he puts in a lot of the information and news on Wonderground and I'm a guest columnist for him once a year when he takes vacation. We put it out there to the press and this is our 9th year running. That's a lot of acts on stage when you think there are about 15 acts on each show.
WILLIAM: And those 15 people on each show, they're telling all of their friends and everybody that they know, so it's kind of like organically growing, then.
JEFF: Yeah. And I think, and this is one of the first times I'm really putting this out to the public, there is radiant marketing and there is magnetic marketing. Let me talk a little bit about this because I think it's a big idea, especially for producers that are producing shows in smaller markets.
Radiant advertising is Las Vegas. Radiant is like the sun. You have to put out a lot of energy and shine a lot of light and burn a lot of energy, and that cost a lot of money. And when you're doing radiant advertising, trying to pack a room every night, that's a lot of rack cards, taxi back advertisements, radio advertisements, taxi tops, brochures, television, radio, listings, press agents, parties, it takes a lot, a lot of money to do what I'm calling radiant advertising.
You're just burning money hoping to get some impressions and eyeballs and out to get that person to your show when the Cirque du Soleil has already gotten most of the market. I mean, just that's the fact. And if they're coming for a magic show, they're going to go see Penn & Teller and they're going to go see Copperfield or Criss Angel or one of these other shows–Mat Franco, Xavier Mortimer. There are great magic shows here.
For me, what magnetic marketing is like the moon uses some of the reflective light of the sun to light it up. But, the moon is only full one night a month. Our club is full one night a month. So what we're doing is we're using magnetic marketing. We're creating a buzz and getting people drawn to us that are magnetically pulled because of the buzz or they hear about it through broadcast like yours or through a friend or a local, and we spend no money on advertising.
We have invitation cards that we hand out to the acts to give to their friends, but we don't put an ad, a poster, a radio advertisement, none of it. But, we're not trying to fill two shows a night, five nights a week like other rooms are. We're in show business. They're in business show.
We want it to this show. We want to have fun with this and work on our art and craft and it's not necessarily a big money-making venture, but it is a way to create a culture of art and entertainment in Las Vegas. And that's what we've successfully done. I mean, nine years is a long time to be running and we're not stopping.
The interesting thing is that we can do Wonderground just about anywhere, maybe because it's a concept and a community. It's not a venue. It's a changeable experience that is really run by a dedicated group of people–Tim Wise, Will Bradshaw, Scott Stillfire, the New World Rhythmatism dancers. There's a core group that are there all the time running the show.
WILLIAM: Now, do you think it's important to have your show at the same time at the same venue in the same day of the month every single month?
JEFF: Yeah. I think I really do. Third Thursday, third Thursday, third Thursday. I decided on that because of the way that reiterates–third Thursday, third Thursday. First Friday was taken and that sounded pretty good. There's a big first Friday thing going on in the Arts District. I didn't want to compete with first Friday, so second Saturday? No. I don't want to do a Saturday or a second Sunday because usually, that's when the corporate or convention or festival dates are, right?
When you're doing an event like ours that depends on other entertainers, because we're kind of an arts community and arty people show up, it's other entertainers, it's other performers and their friends.
One of the reasons I do it on Thursday is that I really wanted to do it on Wednesday. I wanted to be Wonderground Wednesday. Isn't that nice? But the reason I didn't do it is out of respect to the Gary Darwin Magic Club, which has been meeting, I think, for over 50 years every Wednesday night. And I didn't want to steal any of that thunder. I didn't want to go up against that. I wanted to be able to support the established magic club here in town which gets together on Wednesday night. So, by going third Thursday, it tells them which night of the month it is.
Now, ideally, Wednesday night is the ideal month because if you have professional performers that are gigging performers, they're kind of getting ready to leave town on Friday morning to get to their weekend gigs Saturday or Sunday, and then they're flying home Monday. They're taking a big outbreath on Tuesday and are ready to do something Wednesday before they start packing to go out of town the next weekend.
You see? Wednesday is the valley of the week and it's the time that people are home that are in the entertainment industry, that are travelling people that use Las Vegas as a hub and there's a lot of us that fly out of town every weekend. You can't go up to the airport and I'll see Pan or I'll see Mac and we're flying out for weekend gigs or something, you know, weekend corporate gigs.
I think it is important for it to be consistent because people want to come every month and they'll forget about it. Now, it's a little bit dangerous doing a third Thursday, it's because sometimes, the third Thursday comes really early in the month and sometimes it's really late. When you think of three weeks, you automatically go 21; people count 21 in their head. They think it's around the 21st and sometimes it's on the 14th or 15th.
WILLIAM: Right.
JEFF: So, there's a little danger there. That's the down side. That's the honest down side of that. People go, "Oh!" So we use that on our press is Wonderground's early this month. Check your calendar.
WILLIAM: Now, how many people would you say are locals versus tourists?
JEFF: You know, I would say on any given night, most are locals and we'll have 20 to 30 tourists that have heard about it, that have been one that would come forever, you know, that have read about it in the magazines or they've heard about it online or people have buzzed to them about it or they get the information.
Sometimes little blogs do, "Oh, this is the coolest underground scene in Vegas. You got to go. You got to check it out. It's like a 3-hour experience. You get to hang out with the artist. They're right there. It's like Cabaret, the movie, but you're in it. You're a character in it." It's not a show you go see. It's a show you're a part of, which is so cool.
WILLIAM: Can you tell us about your Magic and Mystery School and what role that plays with your show attendance?
JEFF: Okay. When we're trying to do the Wonderdome years ago and we successfully ran it for three years, but not for the public. We wanted to be a magic center, which was a point of purchase magic shop, a restaurant, magic school and theatre. It's very hard to do when we couldn't get the zoning and very expensive to do unless you have a lot of capital behind you, like millions and millions and millions of dollars to do it right.
Even casinos can't really have a track record of doing it right. Even things like Caesar's Magical Empire ran their course and that was $65-$70 million just to build the place before they had to put people through it. I mean, that's a lot of money you're talking about.
So, the Magic and Mystery School is now 25 years old. It's my passion, you know, teaching magic and spending time with the greatest teachers in magic, really helping people accelerate their magic career, and getting on tract and doing what they want to do, whether it's having a second career as a magician or winning a competition, or just getting their act better for their friends and families. That's what we do.
And we synergize, so instead of running a restaurant, magic shop and theatre, we have the magic school here at the mystery school where we have a private magic shop that's only open for our students. And then, we go down the street to have dinner at the Wonderground and have the show there. So, instead of me having to own and pay rent on all of the different aspects of the dream magic center complex, it's just decentralized. Do you understand? So the school is in one place, the restaurant and theatre is in another place. The classrooms are here at the magic school.
So, I try to synergize the classes to fall over the third Thursday of the month. That allows me to plan the rest of my year to go, Oh, I can go out two weeks at the top of the month and two weeks at the bottom of the month and still come home for that big section of time where I can come home, see my friends, share time with my wife, teach magic with Eugene Burger or one of the other great teachers here, and then take everybody out to a wonderful time down at the Wonderground. And they see that, too. It's like it all works together. It all synergizes.
And then, some of the acts at the Wonderground will come up and be guest teachers here at the Wonderground or even some of the people, the pros, that are coming in to take classes, will do a spot on the show, or students that come for the first time to the magic school, they'll see Wonderground and then go, "Oh, I'm going to be back in April. Can I do a spot?" And I'll work with them on a great spot for the show. So yeah, it's getting all of these pieces to work together in a very positive way.
WILLIAM: And whenever your students attend the show, how do you go out of your way to make them feel special?
JEFF: Well, I have a VIP section for them. One of the things is at the role that I play at the Wonderground is the role of the Master of Ceremonies. It's not Jeff McBride, the magic act. I am the host. I am the master of the three and a half hour ceremony and it's a ceremony of unveiling all of these wonderful, wonderful artists that are going to try their very best to do their greatest work and entertain these people. So, everybody wins.
And you know, we have a special seating for all of our students and they get the VIP service and they get first seating and the best seats in the house. And they get introduced to all the celebrities that come.
You know, David Copperfield has attended, had come over to our school and given talks to our audience. Mat Franco, you know, Teller has spoken to our group, Mac King, all of these entertainers end up showing either at the magic school or at Wonderground and they get to spend time talking with our students because they're formally introduced.
WILLIAM: One of the things that really stood out to me is that whenever I attended your show, you personally said "Hi" to everybody and sat everyone yourself. What role does that play in really strengthening your relationships with all the patrons that are attending the Wonderground?
JEFF: It's a really difficult job but so necessary because first impressions are very important. When people walk in that door and they feel ungrounded or they don't know where to go or they don't feel taken care of, or they're looking around and see if they can find a seat, you can just see the wiring and the smoke coming out of their ears. And my job is to get everybody the best possible seat.
Even when people come in by themselves, I try to group them with a bunch of cool people that they can connect with so they don't feel like they're having this group experience but they're not part of it. And I really understand this from doing this from so many years.
It's as important for me to shake hands and meet and greet a person at the door as it is to do a great routine on stage because if the person walks in and they go, "Oh, that's the prick that snubbed me at the door. He's a pretty good magician, but what a dick." That's not what I'm going for. What I'm going for is that people really feel at home and welcomed and taken care of at this place. I think that's part of it. The show, not that it's secondary, but it supports the ingratiating hospitality that we try to show our people when they arrive.
WILLIAM: And it really stood out to me whenever you sat me and John T Sheets, you introduced us to the people who we would be sitting with. You said, "Hey, these are my friends, William and John. These are great people." Then you said something that we had in common so that we could start a conversation before the show even started. And I think that's something that really stood out to me.
JEFF: Yeah, I probably sat you with some other magicians because magicians can talk magic and dish magic. I probably sat you with a couple of other magicians that came in in one of the couch areas or something towards the back or the side or one of the tables. I try that and it's not a perfect science. I don't get everything right every show. It's not like, well, you know, but I do and when we come into that room, we move every single chair into a new configuration that that room isn't usually in.
People don't know that if we show up at 3 o'clock in the afternoon and we're moving lights and curtains and screens and sound equipment and props and all kinds of stuff into that place, and then moving every single seat to get it into our configuration because our configuration isn't the regular night club configuration. So, we work very hard to create the space that will create the illusion of effortless hospitality.
WILLIAM: So, to wrap this up, what's one marketing technique that you would advise event producers to do today to increase their revenue?
JEFF: Well, I think the idea of magnetic marketing is really big; having something consistent that fans can come back to again and again. The challenge here is that if a person has a magic show, a certain percentage will come to see it and they've seen it. But with something like Wonderground, I change material every month. I plot out my year and I have 12 different routines for the early show, 12 different close up sets and 12 different pieces or 24 different pieces because I do two spots on the second show on the late show.
I plot all that stuff out in advance and I think you have to have a lot of community support and change it up. For me, if it was the same performers doing different stuff every month, it would fail. It has to have new faces, new people coming in. It's a lot of work to track these people down, but after nine years, it has created a magnetic attraction to people.
But I think if you're first starting it off, have the people that are involved in the show in the acts of the show, and you don't need that many in a variety show like this. I think it's a workable format and we've helped other people in other cities do a very similar thing.
There was a place called Wonderland down in Louisville that was opened for a couple of years that an event producer did down there. And there was a version of this done in Salt Lake City for a while. But people have to be ready to stick with it. Sometimes they'll give up if they have four months where it's like a third of a house. Look, this isn't working. Because, what happens is a lot of comedy and variety in showcase places, they'll start out strong because everybody's friends will come the first week, but will they come the 20th week? That's the thing. Will they come in years?
And everybody knows we try to keep it sensational that you never know what to expect at Wonderground. One night, some more of the Torture King is, doing one of his fakir extraordinary things that's very rarely seen. And then, the next weekend, Amazing Jonathan jumps up on stage and then the next month, it's Xavier Mortimer doing pieces out of his Vegas show. You got to keep it fresh and you got to keep it unexpected and unpredictable.
Another thing is I think we're good to our people. We throw parties for our Wonderground players often at our place and have "Work in progress" nights. Then at the Wednesday before, we'll have one of those four times a year where we'll get together and have some pizza and everybody works on their numbers for upcoming Wondergrounds.
So, it's a real community. It's more than a commercial venture. If you're just looking to make money real fast and pay everybody, it's not going to happen. And one of the things that we do is we pass the hat and people take a cut of the hat. And if the hat's low that night, I'll kick in a couple of hundred dollars to get everybody's money up.
The audience has to support what we're doing and if the audience doesn't support it, then it doesn't happen. That's part of the keys–keeping it consistent, keeping it unexpected and making people part of it.
I think one of my prime philosophies is people support what they help create. And if people feel that they have skin in the game and they're really part of this and they've contributed, then they'll support it. They will get people there.
WILLIAM: Now Jeff, how do we keep up with you and how do we attend the Wonderground?
JEFF: Well, the key to the Wonderground is showing up at 7:30 and that's the key. And it's the third Thursday and you never know what to expect, and it's always going to be great. Oh! And we have an afterparty that everybody is invited to. After we finish the show around 11:00, we pack up and we go over to this beautiful place called Elixir and we have an afterparty that will go until 3 o'clock in the morning. And a whole different group of entertainers drop in to that that are just getting off work at 11:00 or midnight. So yeah, the party continues.
And then, the next day, Friday, I usually have an open day for the out-of-town acts to drop in over at the Mystery School to either talk to the students or just to hang out and have coffee. So, it's not just a gig. It's kind of a way of life. It's a way of connecting with people. When I'm home for one week out of two months, I can actually see all my friends at once and connect, instead of seeing them only waving at them at the dealer's room at a magic convention every other year.
WILLIAM: Right.
JEFF: Well, the key to the Wonderground is showing up at 7:30 and that's the key. And it's the third Thursday and you never know what to expect, and it's always going to be great. Oh! And we have an afterparty that everybody is invited to. After we finish the show around 11:00, we pack up and we go over to this beautiful place called Elixir and we have an afterparty that will go until 3 o'clock in the morning, and a whole different group of entertainers drop in to that that are just getting off work at 11:00 or midnight. So yeah, the party continues.
And then, the next day, Friday, I usually have an open day for the out-of-town acts to drop in over at the Mystery School to either talk to the students or just to hang out and have coffee. So, it's not just a gig. It's kind of a way of life. It's a way of connecting with people. When I'm home for one week out of two months, I can actually see all my friends at once and connect, instead of seeing them only waving at them at the dealer's room at a magic convention every other year.
WILLIAM: Right.
JEFF: Yeah. It's true. It's absolutely true. You could live down the street from another magician or another friend in your community that you really like, who's just as busy as you are, and you see them every other year in the dealer's room and they're surrounded by people, too, and you wave, neighbor.
But at the Wonderground, you can actually hang out with them because it's a place where, like I said, you can come and John T Sheets and so can The Amazing Johnathan and Mat King, and we can all hang out together and not be to bother and just hang out with magic friends.
WILLIAM: What websites should we visit in order to learn more about you, your school and the Wonderground?
JEFF: McBrideMagic.tv is kind of a portal. It's my live stream station and it's my portal in to the magic school. McBridemagic.tv is the easiest one to see what's going on with the magic school and also, Vegaswonderground.com. If you did Jeff McBride's Wonderground or Vegas Wonderground, did a search on that, you'd get the website.
If you're listening to me now, you can email me Jeff@McBridemagic.com or drop me a Facebook post and I'll put you on our newsletter which is an inspirational newsletter about magic and magic philosophy and what inspires me and our friends, and that's how I get people into my loop is through my newsletter. And they find that they can sign up for that on McBridemagic.tv.
WILLIAM: And we'll put a link to all of that in the show notes at the bottom of this episode. Well Jeff, thanks for coming on the show today.
JEFF: You are welcome. I hope to see some of your listeners out at Wonderground or at our classes.
Show Notes:
Wondergound – http://vegaswonderground.com/
Jeff McBride – http://mcbridemagic.tv